Covington Catholic advances to state final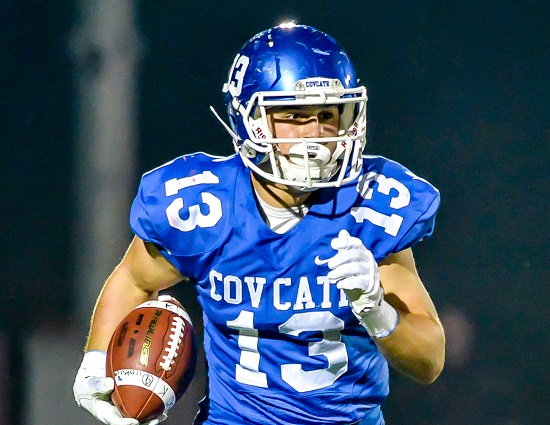 SOMERSET, Kentucky – Covington Catholic rolled through Pulaski County, 36-14, to advance to the state finals.
Covington Catholic's Caleb Jacob contributed to three of the four first quarter touchdowns Friday night. He threw a 59-yard touchdown strike to Luke Summe on the opening drive, a 55-yard scoring pass to Jack Coldiron, and ran one in a quarterback keeper.  The Colonels had a four-touchdown lead before the game was out of the first quarter.
Casey McGinness was the other Colonel responsible for a first quarter touchdown, and he scored his second touchdown in the second quarter to make it a 36-0 lead after Jacob threw a two-point conversion to Casey McGinness. The senior back led the team with 70 rushing yards.
Jacob completed seven-of-eight passes for 161 yards.
Pulaski County scored a touchdown in the third quarter and fourth quarter, but that is how close they would be able to cut the deficit before running out of time.
The Colonels were able to take advantage of an interception and two fumble recoveries.
Covington Catholic will look to finish the season with a state championship next week.
SCORING BY QUARTERS
Covington Catholic 28-8-0-0-36
Pulaski County 0-0-7-7-14
SCORING SUMMARY
C: Summe 59-yd pass from Jacob (Gronotte KICK)
C: Jacob 1-yd run (Gronotte KICK)
C: Coldiron 55-yd pass from Jacob (Gronotte KICK)
C: McGinness 10-yd run (Gronotte KICK)
C: McGinness 12-yd pass from Jacob (McGiness pass from Jacob)
P: Casada 18-yd pass from Cain (McAlpin KICK)
P: Sloan 10-yd pass from Cain (McAlpin KICK)
RECORDS: Covington Catholic (13-0), Pulaski County (11-2)
UP NEXT: CovCath vs. South Warren (14-0) – Sunday, December 2 at Kroger Field (Class 5A Championship game)