Walton-Verona's dream season ends against Mayfield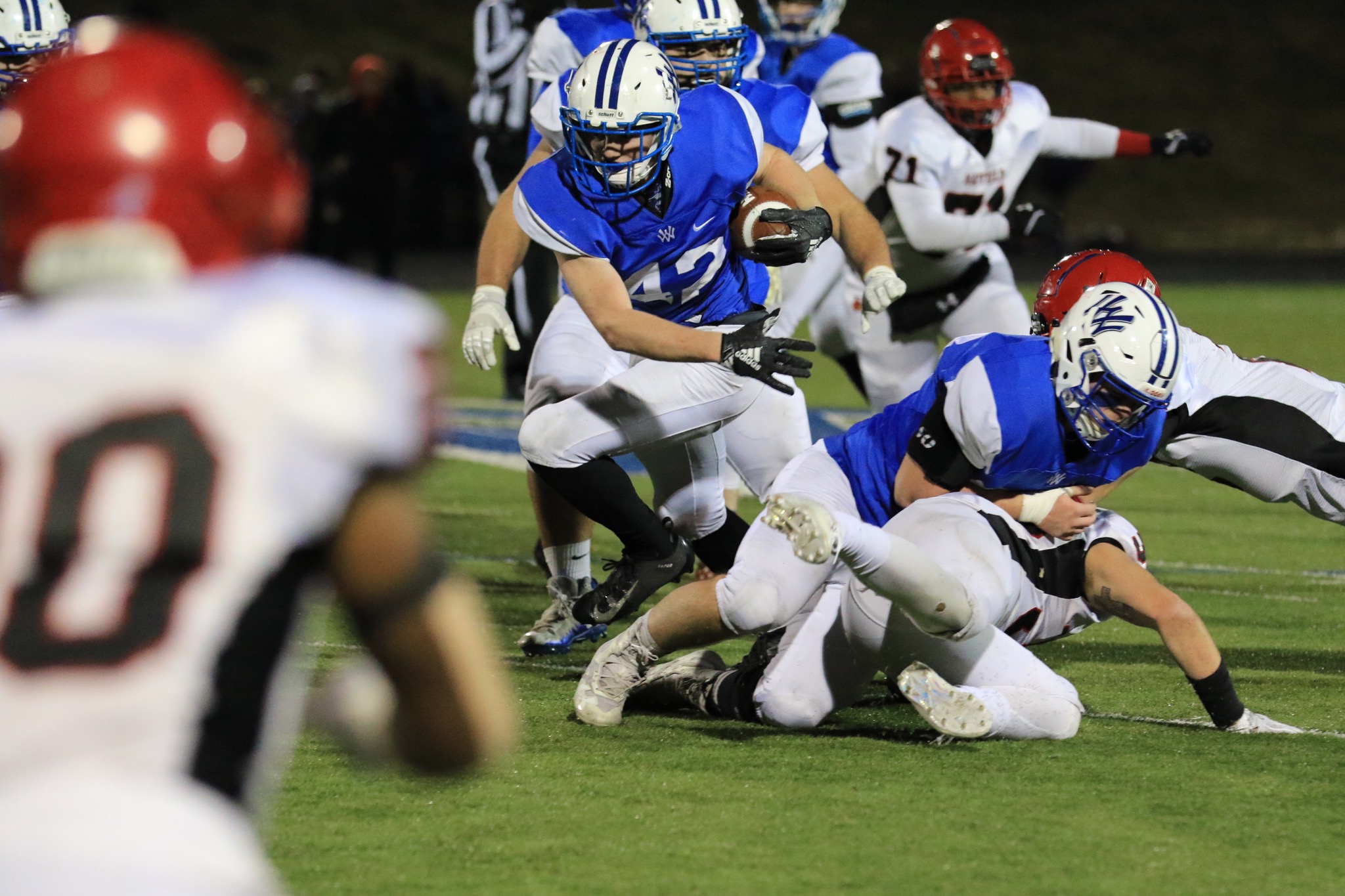 Photo by Carla Martin
VERONA, Kentucky – For the second straight week the Walton-Verona Bearcats were looking to send an out-of-town team back home on a lone, lonely and quiet bus ride. Instead the Mayfield Cardinals, a perennial state title contender, ended Walton-Verona's dream season on a sour note with a 38-7 drubbing in the 2A state semifinal game.
Walton-Verona won its first ever region championship last week with an unlikely 18-14 win at home over Glasgow. This week Mayfield traveled over four hours and took control of the game early en route to its second consecutive state title appearance. 
"They're a great team," said Walton-Verona head coach Jeff Barth after the game. "We knew we were going to have to play an A+ game and have some things go in our favor."
The Bearcats keep it close in the first quarter. After each team traded three-and-out possessions, Mayfield ended up with great field possession thanks to a short Walton-Verona punt.
The Cardinals started near midfield and reached the three-yard line before a stout Bearcats defense stand, lead by senior linebacker Garrett Grubbs, held Mayfield to a field goal attempt. Micah Haley cashed in the 20-yarder for Mayfield, breaking the seal on the scoreboard.
Mayfield didn't score its first touchdown until midway through the second quarter on a 34-yard catch by Alonzo Daniel from quarterback Jared Stinson.
Walton-Verona responded with a nice drive of its own. However, the Bearcats faced a 4th-and-5 at the Mayfield 22-yard line with three minutes left in the first half.
Mayfield defensive end Ethan Couch blitzed and was untouched by his blocker, sacking Walton-Verona quarterback Garrett Jones turning the ball over on downs.
Stinson made the Bearcats pay for that with a 32-yard touchdown pass to Connor Guthrie just before halftime. Mayfield went to the locker room with a 17-0 advantage.
"We had a shot there late in the second quarter where we were trying to make it a 10-7 game. We came up short and they punched one in right before the half," said Barth.
Mayfield came out of the locker room blazing as the Cardinals scored on its first two possessions. Markeacio Jackson and Stinson each scored on rushing plays to put the game out of reach.
Trey Matthews scored on a 1-yard touchdown dive just before the end of the third quarter making the score 38-0 and turning on the running clock.
Walton-Verona running back Tyler Wagner ripped off a 76-yard touchdown run early in the fourth to avoid the shutout for the Bearcats.
Bearcats head coach Jeff Barth knew his team was a prohibitive long shot and he took his team to watch the movie Creed II, another story about facing long odds.
"Well, I didn't want them sleeping in all day," Barth said chuckling. "We also wanted to do something memorable with them too. It's a really good group and yeah we were an underdog last week and we came up with the victory. This week we were the underdog and came up short."
Mayfield, last season's runner-up, moves on the 2A state championship game next week against Christian Academy of Louisville who defeated Somerset 35-12.
Despite the loss Walton-Verona's future looks bright. In just its 11th season as a football program the Bearcats won its first regional championship and set a record for most wins in a season.
"Our guys battled and that's a heckuva football team. They've won 12 or 13 state titles in they're program's history and they can win it again next week," Barth said. "We're proud of what were able to accomplish but we have room to grow if we want to get to a state championship."
SCORE BY QUARTERS
Mayfield 3-14-21-0 – 38
Walton-Verona 0-0-0-7 – 7
SCORING PLAYS
M – Micah Haley 20-yard field goal
M – Alonzo Daniel 34-yard TD catch from Jared Stinson (Micah Haley kick)
M – Connor Guthrie 32-yard TD catch from Jared Stinson (Micah Haley kick)
M – Markeacio Jackson 6-yard TD run (Micah Haley kick)
M – Jared Stinson 16-yard TD run (Micah Haley kick)
M – Trey Matthews 1-yard TD run (Micah Haley kick)
WV – Tyler Wagner 76-yard TD run (Tristan Padgett kick)
RECORDS: Mayfield (14-0); Walton-Verona (11-3)
NEXT WEEK: Mayfield vs. Christian Academy-Louisville (14-0) on Saturday, December 1st at Kroger Field 1pm