Winton Woods title bid comes up short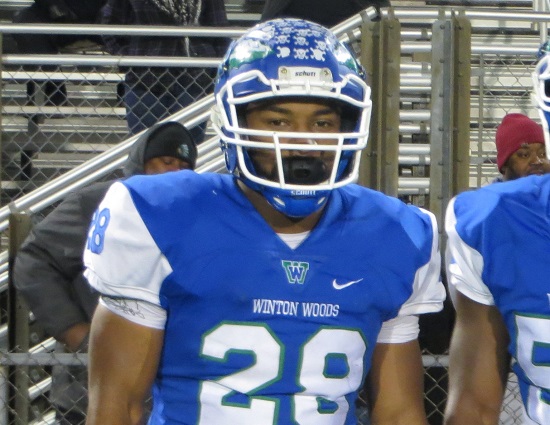 GAHANNA, Ohio – The magical Winton Woods season came to an end Friday with a 41-20 defeat to Massillon Washington Friday night.
The Warriors scored early with a field goal by Yeri Velasquez on the first possession, and then Miyan Williams scored on a three-yard run to tale a 10-0 lead going into the second quarter.
That quick lead quickly evaporated in the second quarter after Massillon scored 26 unanswered points between the second and third quarter. Jamir Thomas scored two touchdowns and Max Turner returned an interception for 40 yards to take a 19-10 lead into halftime.
Highlights: Massillon vs. Winton Woods | 11/23/18 @aidan_beau_5 @Jigg_Galor @PrimeTre7 @BlackSwarmPod @19Deanclark @CoachNMoore @CoachPlayoff @beccamoorecw @Zphifer29 @mtsb1938 https://t.co/TYSzQ37m1q

— FridayNightOhio (@FridayNightOhio) November 24, 2018
The Tigers extended the lead to 26-10 when Adrian Longwell found Tre'Von Morgan on a 58-yard touchdown pass only 40 seconds into the second half.
Winton Woods scored 10 unanswered points in the third quarter to cut the gap to 26-20, but Massillon dominated the fourth quarter, outscoring the Warriors 14-0.
The Warriors committed four turnovers and had 134 yards of penalties in the defeat.
Williams gained 82 yards on 19 carries in the loss. He also caught a pass for 75 yards. Rashaun Brown caught four passes for 54 yards. MiChale Wingfield threw for 157 yards and ran for 43 yards.
Massilon Tigers will play defending Division II champion Akron Hoban.
RECAPS
Winton Woods 10 0 10 0 20
Massillon 0 19 7 15 41
W: Velasquez 36-yd FG
W: Williams 3-yd run (Velasquez KICK)
M: Thomas 15-yd run (Bauer KICK)
M: Turner 40-yd INT return (PAT FAILED)
M: Morgan 58-yd pass from Longwell (Bauer KICK)
W: Velasquez 37-yd FG
W: Williams 1-yd run (Velasquez KICK)
M: Phifer 13-yd run (Clark rec)
M: Phifer 1-yd run (Bauer KICK)
RECORDS: Winton Woods (12-2), Massilon (14-0)