Alter's defense propels Knights to championship game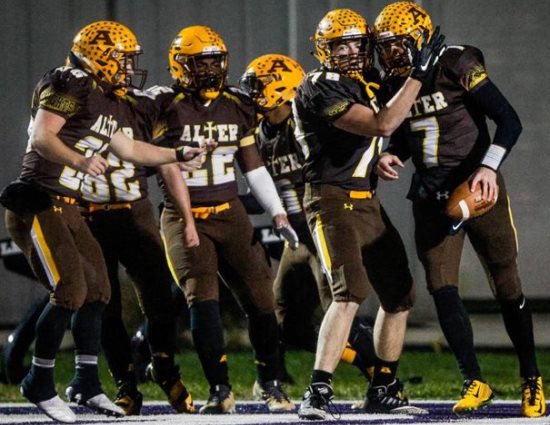 WAPAKONETA, Ohio – Alter's defense came in as one of the top defenses in the state and they continued to rise to the occasion. The Knights stopped Norwalk on downs at their 34, 25, seven and eight yard line and only allowed three points twice inside the redzone. The defense held Norwalk to only 13 points and the offense scored 34 points to earn a trip to the state final.
This was Alter's 13th straight win and now has a meeting with Chagrin Falls Kenston for the Division III state title Friday at Tom Benson Hall of Fame Stadium in Canton. This will be the school's fifth trip to the state title game, but first since 2014 when they lost in the Division IV title game.
Football playoffs: Alter takes out Norwalk; it's Knights (13-1) vs. Chagrin Falls Kenston (13-1) in D-III state final Friday at Canton.https://t.co/uFwTI4gEqw@daytonsports @springfieldnews @journalnews @gclcoedsports @AlterHSFootball @ALTERGOLDRUSH @AlterHS @DavidPJablonski pic.twitter.com/ihsggVSBkd

— Marc Pendleton (@MarcPendleton) November 24, 2018
Alter jumped out to a quick 14-0, but Norwalk chopped away at the deficit to two straight field goals to make it a 14-6. Norwalk had a chance inside the 10-yard line to add a touchdown and go for a two-point conversion to tie the game, but Alter's nose tackle Cookie Armstrong stopped Norwalk on the fourth-and-one play. Alter got the ball back and scored on its first possession when Connor Bazelek connected with Derek Willits to extend the lead 21-6. That was as close as Norwalk would get to pulling off the upset.
Alter has outscored opponents 82-32 in the playoffs.
The championship game will be played at 3 p.m. Friday.