On Wyoming, Cowboys blank London for regional title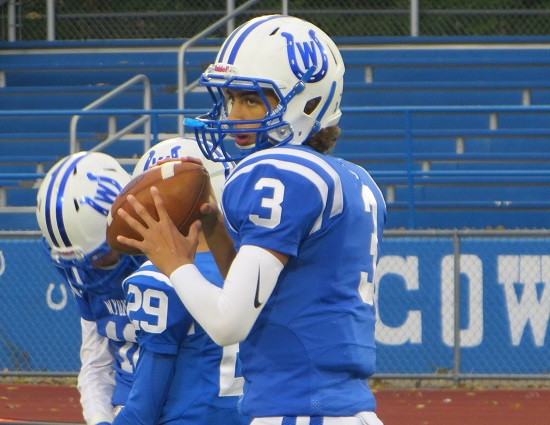 Wyoming QB Evan Prater (photo by Greg Shoemaker/TriStateFootball.com)
CENTERVILLE, ohio – For the first time since 2009, Wyoming coms up victorious in a regional championship game. The Cowboys had come up short the previous two years falling to Alter (in '16) then Clinton-Massie (in '17) but Saturday night they blanked London 28-0 to advance to the Division IV state semi-finals. It was the fourth shutout of the season for Wyoming who has held every opponent to 17 points or less. Only four teams have scored double digits on the Cowboys.
Junior quarterback Evan Prater led the way with a pair of touchdown runs and two scoring strikes to senior Joey Edmonds. Prater, who was named the Southwest District offensive player of the year earlier in the week finished the night with 118 yards through the air and 175 yards (17 carries) on the ground. He has accounted for 50 touchdowns (23 pass, 27 rush) with 1,844 yards passing and 1,392 yards rushing this season.
Edmonds only had the two reception for 49 yards but also came up with a huge interception for the Cowboys defense. Classmate Pierson Rogers tallied 11 total tackles (seven solo) as Wyoming held the Red Raiders to just 129 yards of offense while forcing three turnovers. London had run for 383 yards the in its win over Clinton-Massie the week before.
SCORING BY QUARTERS
London 0-0-0-0-0
Wyoming 0-14-7-7-28
SCORING PLAYS
W: Prater 26 run (Washienko kick)
W: Edmonds 22 pass from Prater (Washienko kick)
W: Edmonds 27 pass from Prater (Washienko kick)
W: Prater 70 run (Washienko kick)
RECORDS: London (11-2); Wyoming (13-0)
UP NEXT: Wyoming will take on St. Mary's Memorial (12-1) at Alexander Stadium (Piqua HS) on Saturday night.