Indiana Roundup: East Central Runs To 19the Sectional Title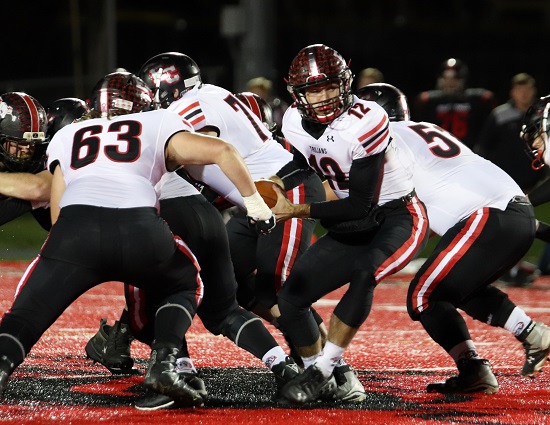 East Central QB Alex Maxwell (photo by Linda Lyness Maxwell)
Only one EIAC remains standing in the IHSAA playoffs. East Central routed Edgewood to advance to the regional finals in Class 4A. Batesvill falls just short at Brownstown Central.
Class 4A, Sectional 23 Championship
East Central 57, Edgewood 22 – A run of 37 unanswered points between the second and third quarters was enough for East Central (11-1) to put away Edgewood (8-4) and claim the schools 19th Sectional title and fourth in a row. The Trojans beat the Mustangs 48-6 in this same game a year ago.
East Central racked up 497 yards of total offense including 358 on the ground. Senior quarterback Alex Maxwell found the end zone three times and set the school record for career rushing touchdowns, now at 67 and counting. He also finished with a game high 131 yards rushing and had another 139 yards passing. Classmate Eric Rosemeyer ran for 128 yards and a score. Rosemeyer raised his total to 1,639 yards and 17 touchdowns rushing on the year. This is the third consecutive season that Maxwell has run for more than 1,000 yards as he now sits at 1,161 yards with 28 touchdowns in 2018.
Friday night Evansville Central (11-1) invades St. Leon in the Class 4A Regional Championship. The Bears are coming off their fourth sectional title. They lost 35-13 to at East Central last fall in the regional finals. The Trojans are looking to capture the programs ninth regional title and fourth in a row.
SCORING BY QUARTERS
East Central 7-24-19-7-57
Edgewood 0-7-7-8-22
SCORING PLAYS
EC: Rosemeyer 28 run (C. Browndyke kick)
EW: Hall 52 pass from Curtis (Heckman kick)
EC: Rosemeyer 12 run (C. Browndyke kick)
EC: Maxwell 4 run (C. Browndyke kick)
EC: Becker 26 pass from Maxwell (C. Browndyke kick)
EC: C. Browndyke 38 field goal
EC: Maxwell 33 run (kick failed)
EC: Maxwell 28 run (C. Browndyke kick)
EC: Fike 11 run (run failed)
EW: Bellemy 6 run (Heckman kick)
EC: Wheat 14 run (S. Browndyke kick)
EW: Bellemy 5 run (Jacobs pass from Curtis)
Class 3A, Sectional 31 Championship
Brownstown Central 25, Batesville 28 – It's one that slipped away from Batesville, who couldn't hold on to a 20-7 halftime lead at Brownstown Central (11-1). The home tam Braves scored 28 unanswered points after intermission behind an inspired effort in all phases of the game.
Brownstown Central was led by Braeden Walker who had 109 yards rushing and a touchdown. Teammate Derek Thompson added 96 yards on the ground. Quarterback Hayden Kinsler threw a touchdown pass to Thompson and ran for another score. He finished with 89 yards passing of which 45 were to Thompson on two receptions.
This is the 13th Sectional title for the Braves. Brownstown Central travels to Evansville Memorial (12-0) in hopes of bringing home a fourth regional title. Their other three regional championships have all come since 2004.
SCORING BY QUARTERS
Batesville 13-7-0-8-28
Brownstown Central 0-7-7-21-35