Fairfield dominates at Lakota West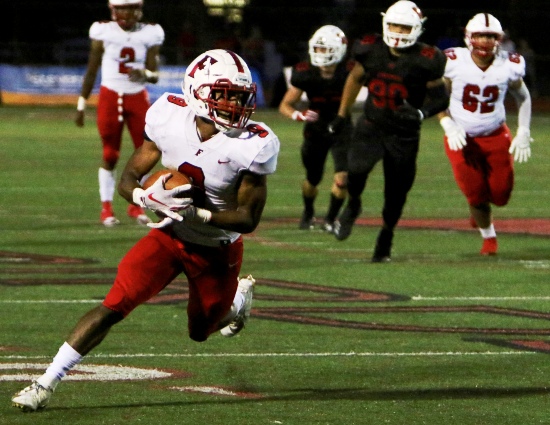 WEST CHESTER, Ohio – There are very few flaws with Fairfield at the midway point of the regular season. The Indians went on the road and routed Lakota West 33-7 as they scored 26 unanswered points over the last three quarters in a dominating performance in this week's Blitz 5 Game of the Week. Fairfield improved to 5-0 for the first time since 2013.
The game featured the top two rushers in the GMC. Fairfield senior JuTahn McClain got the best of his peer David Afari at Lakota West. McClain ran for 182 yards on 18 carries with three touchdowns, including scores from 48 and 68 yards. It was the 14th time the last 15 games that he has rushed for 100 yards or more. The University of Kentucky commit now has 871 yards and 10 touchdowns rushing this season. He has run for at least 168 yards in four of the Indians' five outings.
The Fairfield defense was smothering. They held Afari to six yards on 16 carries. The Firebirds could only muster 69 yards of total offense on 46 plays, including 14 yards rushing on 34 attempts.
Lakota West went just 1-of-14 on third and fourth-down conversion attempts. Firebirds' freshman quarterback Mitch Bolden went just 3-of-12 for 55 yards passing and had a team-high 20 yards on the ground.
Linebacker Omar Shteiwi added two sacks for Fairfield. He is one of four Indians that have three or more sacks on the year. On the other side of the ball Jayden Mayes continued to impress. The junior had seven offensive touches for 114 yards and the first touchdown reception of his career.
SCORING BY QUARTERS
Fairfield 7-6-7-13-33
Lakota West 7-0-0-0-7
SCORING PLAYS
F: JuTahn McClain 10 run (Elgin Phillips kick)
L: David Afari 22 pass from Mitch Bolden (Josh Laine kick)
F: Sawiaha Ellis 12 run (kick failed)
F: Jayden Mayes 23 pass from Ellis (Phillips kick)
F: McClain 48 run (Phillips kick)
F: McClain 68 run (kick failed)
RECORDS: Fairfield (5-0, 3-0); Lakota West (3-2, 2-1)
UP NEXT: Fairfield vs. Lakota East (3-2, 2-1); Lakota West at Oak Hills (0-5, 0-3)
*Stay updated on high school football updates by following @TSFootball on Twitter.