Lakota East outlasts Mason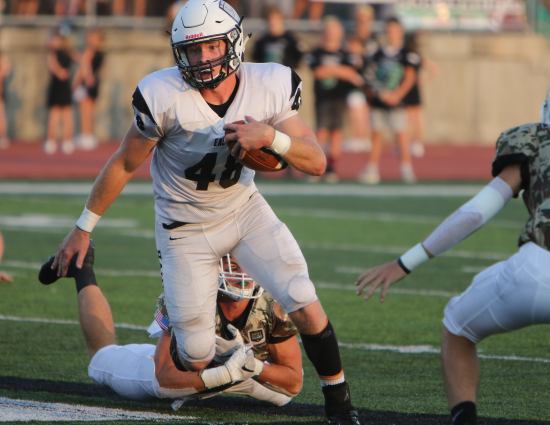 MASON, Ohio – Lakota East held off Mason late in the fourth quarter to win 20-14 Friday night at Atrium Stadium as the Blitz 5 Tour made a stop in the GMC.
The Thunderhawks controlled most of the game and took a 17-7 lead into the fourth quarter. Mason narrowed the lead with just over seven minutes left in the game when senior Collin Brown connected with senior Alec Dardis on a 26-yard touchdown reception.
Lakota East took the next possession into the red zone, but settled for a field goal by senior Gavin Myers to take a six-point lead with under two minutes. Mason had one last possession to pull out the win, but Adam Hundemer tracked down Brown for a game-ending sack.
The Thunderhawks' defense was in Brown's face all night. They recorded three sacks and held Mason to minus-18 yards rushing. Lakota East senior Rodney Heath intercepted a pass in the second quarter that resulted in the Thunderhawks first touchdown by sophomore Tavier Lugo-Flowers. That scoring play would not have been possible without sophomore Charlie Kenrich making diving catch inside the 10-yard line.
Listen to our post-game interview with Lakota East head coach Rick Haynes on High School Football Tonight:

Lugo-Flowers led the game with 140 rushing yards. Junior Josh Thornhill had 110 yards on only 10 carries and scored the Thunderhawks' second touchdown on a 4-yard run in the second quarter. The Thunderhawks totaled over 387 yards and in Mason territory most of the night, but turned the ball over twice in the red zone.
Mason's Brown finished the game, passing 14-of-22 for 167 yards and one touchdown. The offense looked more consistent than in previous weeks when they managed to score only one touchdown in the first two games. The Comets dropped their first three games, which is the first time since 2007 when they started 0-4.
Lakota East will host Middletown next Friday. Mason will head to Oak Hills to seek its first win of the season.
SCORING BY QUARTERS
Lakota East 0-14-3-3-20
Mason 0-7-0-7-14
SCORING PLAYS
E: Lugo-Flowers 1 run (Myers kick)
E: Thornhill 4 run (Myers kick)
M: Cooper 8 pass from Brown (Curran kick)
E: Myers 32 FG
M: Dardis 26 pass from Brown (Curran kick)
E: Myers 25 FG
RECORDS: Lakota East (2-1); Mason (0-3)
UP NEXT: Lakota East vs Middletown (1-2); Mason at Oak Hills (0-3)
*Stay updated on high school football updates by following @TSFootball on Twitter.
+++
Check out these great photos from TSF Senior Photographer Dan Beineke: