Lawrenceburg explodes in 3A opener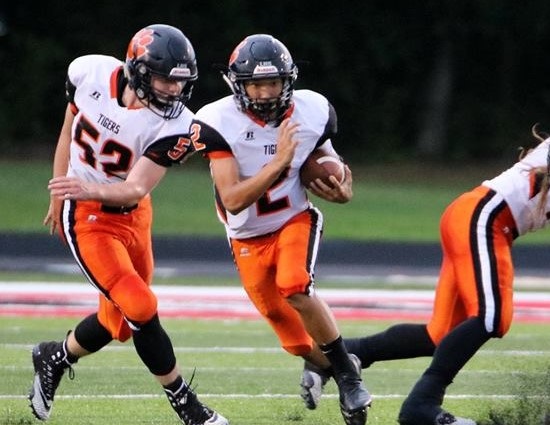 Five of the last eight meetings between the Lawenceburg Tigers and Greensburg Pirates have been decided by one point and two other contests by four points or less. It was a different game script this time around as the two schools met in EIAC-3A clash.
The only thing that slowed the Tigers down early on was the lightning as the game stated late due to weather. Once the contest got going it didn't take Lawrenceburg long to light up the scoreboard.
Quarterback Garrett Yoon got the scoring started with 51-yard TD run at the 7:29 mark in the first quarter. Shortly thereafter, the Tigers would get a safety at the 7:14 mark and led 9-0.
Lawrenceburg (3-1, 1-0 EIAC-3A) capitalized with great field position off the free kick and on the very first play of the possession Yoon hit split end Dakota Roth on a 51-yard scoring strike. By the time the scoreboard hit the 7:00 mark the Tigers were up 16-0.
Listen to our post-game interview with Lawrenceburg head coach Ryan Knigga on High School Football Tonight:

Yoon was too much to handle on the night for Greensburg (2-2, 0-1 EIAC-3A). The junior quarterback was 10 of 17 passing for 175 yards with two touchdowns. He also rushed nine times for 124 yards with three more TDs.
Toby Brogan completed 9-of-15 passes for 163 yards and a TD through the air. He also picked up 59 yards rushing in the loss for the Pirates.
Up next, The Tigers will host Franklin County on Homecoming Night in Lawrenceburg. Meanwhile, Greensville welcomes South Dearborn.