Conner prevails in prime time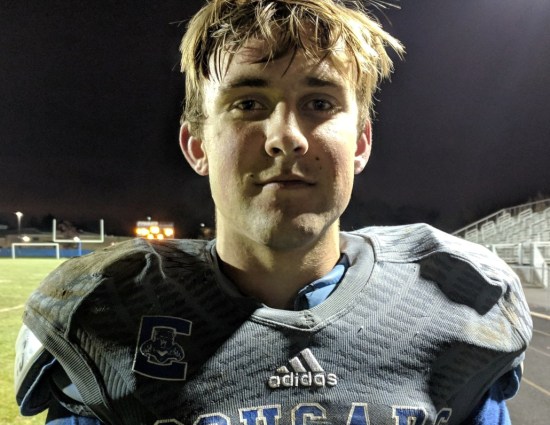 HEBRON, KY – The Conner Cougars held off a feisty Lloyd Memorial Juggernauts' squad in a made-for TV Saturday night match-up in the home opener in Hebron, 24-12.
Both teams entered the contest with a bit of some early-season buzz, having won two of their first three games and looking fairly solid to this point of the season. In the end the game would live up to the billing.
The Juggernauts entered the contest without having allowed an opponent to reach 200 yards of offense in 2019 and early on they held the Cougars in check. Conner finally dented the scoreboard midway through the second quarter on a 3-yard TD run by Douglas Abdon.
Nicholas Keller later drilled a 27-yard field with 1:58 left in the half to give the home team at 10-0 lead at the break.
Quarterback Jared Hicks would take control of the game coming out of the locker room. The senior threw for a pair of second-half touchdowns to secure the win.
The first of the TD passes came on the heels of a clutch 45-yard connection to classmate Caleb Ervin on 3rd-and-12. Following an off-sides penalty by the Lloyd, Hicks connected on a 20-yard TD pass to Colton Roy on the very next play and just like that the Cougars were up three scores heading into the final quarter.
Lloyd finally got on the scoreboard with 8:32 left in the game when running back Michael Sassin scored on a 1-yard run. However, the Juggernauts' PAT kick attempt failed and they were down 17-6.
After the Cougars failed on their next drive, Lloyd would answer in a hurry when Jacob Davidson hit wide receiver breakout player Treshawn Cody on an 82-yard TD bomb. Cody, who is playing his first-ever high school as a senior, has now scored three times on the season.
Lloyd failed on the two-point conversion, but cut the lead to five points.
Hicks would put the nail in the coffin when he got the ball back in his hands. He led the Cougars down the field for one more scoring drive, capped off by a 8-yard TD strike to Justin Daniels to seal the deal.
After dealing with a ton of injuries, the Cougars are getting healthy, sitting at 3-1 and clicking on all cylinders.
Hicks finished with 293 yards on 23-of-40 passing. Roy led all receivers with eight catches for 119 yards and score and he added 37 yards rushing on seven carries.
Davidson passed for 173 yards and Cody finished with 101 yards on four catches in the loss for the Juggernauts.
It was a tough loss for Lloyd, but first-year head coach Kevin Niederman has to be encouraged by much of what he has seen so far in his team's 2-2 start against a tough schedule.
SCORING BY QUARTERS
Lloyd 0-0-0-12-12
Conner-0-10-7-7-24
C: Abdon 3-yard run (Keller kick)
C: Keller 27-yard FG
C: Roy 20-yard pass from Hicks (Keller kick)
L: Sassin 1-yard run (kick failed)
L: Cody 82-yard pass from Davison (2-point att failed)
C: Daniels 8-yard pass from Hicks (Keller kick)
RECORDS: Lloyd (2-2); Conner (3-1)
UP NEXT: Lloyd vs. Mason County (2-2); Conner vs. Campbell County (0-4)
*Stay updated on high school football updates by following @TSFootball on Twitter.