VOTE: Week 3 Player of the Week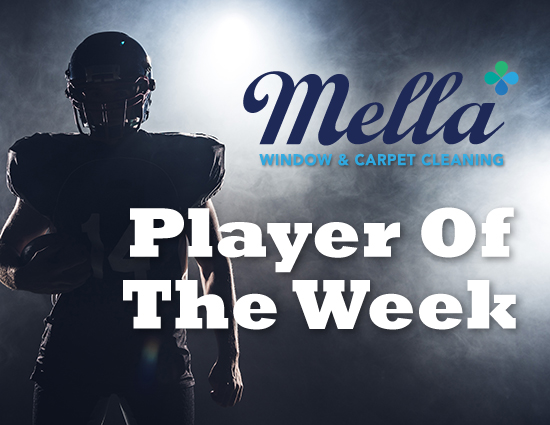 TriStateFootball.com is proud to present the Mella Window & Carpet Cleaning Player of the Week for the 2019 regular season. Players will be nominated from the Cincinnati, Northern Kentucky and Eastern Indiana areas.
Each week a group of nominees will be selected from a large list of some of the area's top performances and will be included in an online voting poll to determine a winner. The poll will launch weekly on Sundays. Voters can vote once per hour, per IP address through Wednesday at 12:00 PM Eastern weekly.
Once a player has won, they were ineligible to be nominated a second time. Players can only be nominated three times during the course of the season.
All of the season winners will be recognized and receive a plaque at the TriStateFootball.com Year in Review Show in February (more details announced during postseason).
+++
Take advantage of this internet special at Mella Window & Carpet Cleaning:

Whole house window cleaning $179 – COMPLETE DETAILS
+++
Here are this week's nominations…
Gauge Dunn, Bethel-Tate, So, WR – Had 11 receptions for 240 yards and three touchdowns as Bethel-Tate beat Scott, 38-33.
Kyle England, Ryle, Sr, RB – Carried the ball 13 times for 145 yards and four touchdowns as the Raiders blanked Boone County, 46-0.
Jack Ferron, Sycamore, Sr, K – Hit a game winning 35-yard field goal as time expired in the Aviators shocker over previously unbeaten Princeton, 16-13.
Gabe Goins, Moeller, So, RB – Had 101 yards rushing on 14 attempts with three trips to the end zone as the Crusaders picked up their first win of the year.
Seth Greene, Mariemont, Jr, RB – Ran for 182 yards on 16 totes with four touchdowns in the Warriors 41-6 victory over Shroder.
Dalton Guthrie, South Dearborn, Sr, RB – Found the end zone four times (two rush, two rec) as the Knights shutout Connersville, 39-0.
Andrew Hinds, Little Miami, Sr, WR – Caught three balls that all went for touchdowns and had 140 yard receiving as the Panthers now sit at 3-0.
Hunter Johnson, Milford, Sr, QB – Threw for 271 yards and five touchdowns with no interceptions as the Eagles soared past Loveland, 47-13.
Cole Joslin, Clermont Northeastern, Sr, RB – Ran for 256 yards on 24 carries and six touchdowns as the Rockets flew past Batavia, 63-14.
Brendan Lamb, Clinton-Massie, Sr, RB – Carried the ball 34 times for 224 yards and four touchdowns as the Falcons screeched by Fenwick, 28-21.
James Martin, Newport, Jr, RB – Carried the ball six times for 128 yards and three touchdowns as the Wildcats remained perfect at 4-0.
Joe Royer, Elder, Sr, TE – Hauled in six receptions for 106 yards and two touchdowns including the game winner with 1:06 left in the Panther wild 60-54 win versus Clearwater International Academy (FL).
AJ Washienko, Wyoming, Sr, K – Nailed his first career field goal, a 32-yard shot that lifted Wyoming to a 10-7 win at Mount Healthy.
Garrett Yoon, Lawrenceburg, So, QB – Amassed 285 yards of total offense (165 pass, 119 rush) and accounted for five touchdowns (three rush, two Pass) as the Tigers won their third game in a row.