VOTE: Week 3 Team of the Week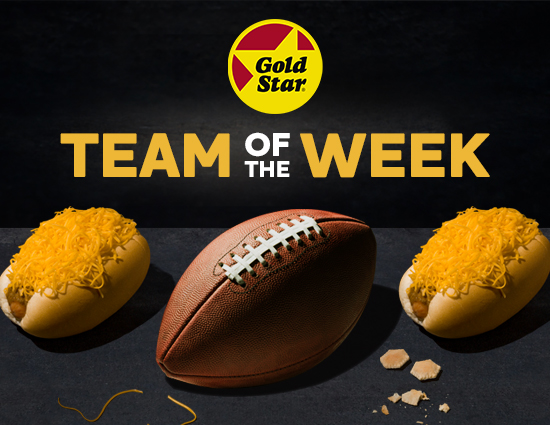 Gold Star Chili and TriStateFootball.com are partnering once this year to present the Gold Star Chili Team of the Week during the 2019 regular season. Each week 10 schools will be nominated from the Greater Cincinnati area to be included in an online voting poll to determine a winner.
The voting is open now until Wednesday afternoon at 12PM Eastern. Voters can vote once per hour, per IP address.
Once a team has won, they were ineligible to be nominated a second time. All of the winning teams will receive a trophy to be presented at their school by Gold Star Chili. Teams can only be nominated three times during the course of the season.
+++
Take advantage of the TSF-only deal at Gold Star this week:

$5 OFF any purchase of $25 or more  – PRINT COUPON
+++
Here are this week's nominations:
CONNER (3-1)
Dave Trosper has his Cougars clicking on all cylinders early on as displayed in their 24-12 win vs. Lloyd.
ELDER (3-0)
Elder scored 60 points and needed almost every one of them in a six-point shootout win over visiting Clearwater Academy.
HARRISON (2-1)
The Wildcats won a 6-0 slugfest in overtime against a tough Anderson team.
HIGHLANDS (3-1)
Highlands scored 28 or more points for the fourth straight week in their 28-7 win at Simon Kenton.
LAKOTA EAST (2-1)
The Thunderhawks took down Mason in Week 3's Blitz 5 Game of the Week, 20-14.
LAKOTA WEST (2-1)
It was all Lakota West at Hamilton as the Firebirds kicked off GMC play with a 33-13 victory.
LEBANON (2-1)
Lebanon knocked off West Clermont 16-6 to wrap up non-conference play.
LITTLE MIAMI (3-0)
The Panthers scored 26 second-half points to defeat Goshen, 33-24.
MILFORD (2-1)
Milford scored 30 first-half points and breezed past Loveland, 47-13.
NEWPORT (4-0)
Don't look now, but the Wildcats have outscored their foes 162-28 through four games after a 63-8 win vs. Bracken County.