VOTE: Week 1 Team of the Week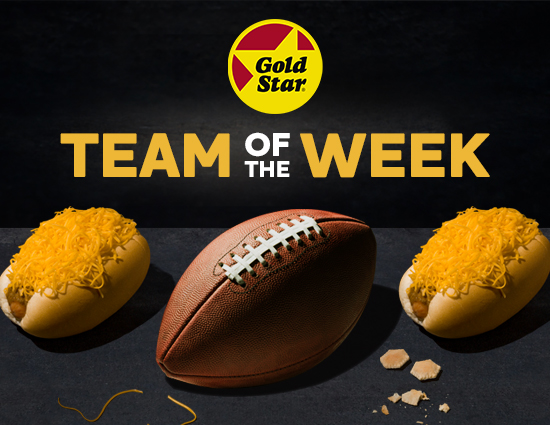 Gold Star Chili and TriStateFootball.com are partnering once this year to present the Gold Star Chili Team of the Week during the 2019 regular season. Each week 10 schools will be nominated from the Greater Cincinnati area to be included in an online voting poll to determine a winner.
The voting is open now until Wednesday afternoon at 12PM Eastern. Voters can vote once per hour, per IP address.
Once a team has won, they were ineligible to be nominated a second time. All of the winning teams will receive a trophy to be presented at their school by Gold Star Chili. Teams can only be nominated three times during the course of the season.
+++
Take advantage of the TSF-only deal at Gold Star this week:

Free Regular 3-Way w/purchase of any 3, 4, or 5-Way  – PRINT COUPON
+++
Here are this week's nominations:
BOONE COUNTY (2-0)
Bryson Warner's Rebels are off to a 2-0 start, the first for the school since 2011, after a 34-28 win over Dunbar.
DIXIE HEIGHTS (1-1)
The Colonels cruised past George Rogers Clark in an impressive 35-12 victory.
HAMILTON (1-0)
The Nate Mahon Era at Hamilton started off with a win as the Big Blue beat West Clermont, 21-7.
KINGS (1-0)
The Knights got the best of their rivals, Lebanon, in a 34-20 Week 1 win.
LA SALLE (1-0)
Lancer Nation was treated to an impressive Week 1 performance as the Lancers won 31-7 vs. Lakota West.
PURCELL MARIAN (1-0)
The Cavaliers shutout Reading 19-0 to open up the year.
RYLE (1-1)
It was all Raiders on Friday night as Ryle downed Conner in their home opener, 34-10.
TALAWANDA (1-0)
Larry Cox had his boys ready to play in this one as the Braves beat Preble Shawnee, 41-7.
TURPIN (1-0)
The Spartans pulled off a 35-21 road upset over Lakota East to open up their 2019 campaign.
SYCAMORE (1-0)
The Aves kicked off their season wiht 50-20 win over Loveland.