VOTE: Week 2 Team of the Week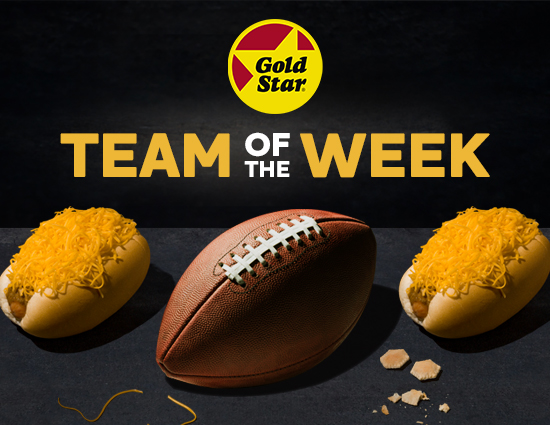 Gold Star Chili and TriStateFootball.com are partnering once this year to present the Gold Star Chili Team of the Week during the 2019 regular season. Each week 10 schools will be nominated from the Greater Cincinnati area to be included in an online voting poll to determine a winner.
The voting is open now until Wednesday afternoon at 12PM Eastern. Voters can vote once per hour, per IP address.
Once a team has won, they were ineligible to be nominated a second time. All of the winning teams will receive a trophy to be presented at their school by Gold Star Chili. Teams can only be nominated three times during the course of the season.
+++
Take advantage of the TSF-only deal at Gold Star this week:

Free cheese coney with any Loaded Fries purchase  – PRINT COUPON
+++
Here are this week's nominations:
BETHEL-TATE (1-1)
The Tigers knocked off New Richmond 22-20 to grab a huge early-season win.
COVCATH (3-0)
The Colonels rallied from two touchdowns down with less than seven minutes to play to beat LexCath, 39-38.
DEER PARK (2-0)
Deer Park defeated Clark Montessori 46-0 in Week 2.
LLOYD MEMORIAL (2-1)
Lloyd knocked previously unbeaten Boone County 22-14 in their home opener.
PRINCETON (2-0)
The Vikings shutout Withrow 42-0 to remain undefeated and have outscored their opponents so far 80-7.
ROGER BACON (2-0)
Roger Bacon debuted its renovated Bron Bacevich Stadium with a big 41-14 win over NewCath.
ROSS (2-0)
The Rams picked up a 42-3 win over Monore, outaining them by 418 to 90 margin in total yards.
ST. XAVIER (2-0)
The Bombers won versus their rival Colerain, 21-14, with big plays on all sides of the ball.
WINTON WOODS (2-0)
Winton Woods is clicking on all cylinders early on and breezed by West Clemront in Week 2, 49-0.
WYOMING (2-0)
The defending state champs are picking up right where the left off and continued their 17-game winning streak by taking down Taft, 28-0.