VOTE: Week 2 Player of the Week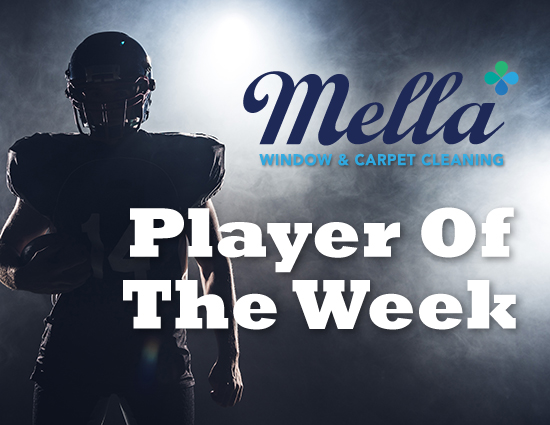 TriStateFootball.com is proud to present the Mella Window & Carpet Cleaning Player of the Week for the 2019 regular season. Players will be nominated from the Cincinnati, Northern Kentucky and Eastern Indiana areas.
Each week a group of nominees will be selected from a large list of some of the area's top performances and will be included in an online voting poll to determine a winner. The poll will launch weekly on Sundays. Voters can vote once per hour, per IP address through Wednesday at 12:00 PM Eastern weekly.
Once a player has won, they were ineligible to be nominated a second time. Players can only be nominated three times during the course of the season.
All of the season winners will be recognized and receive a plaque at the TriStateFootball.com Year in Review Show in February (more details announced during postseason).
+++
Take advantage of this internet special at Mella Window & Carpet Cleaning:

Whole house window cleaning $179 – COMPLETE DETAILS
+++
Here are this week's nominations…
Zach Branam, La Salle, Jr, QB – Accrued 259 yards of total offense (126 pass, 133 rush) and accounted for three touchdowns (two pass, one rush) as the Lancers shutout Mason, 31-0.
Kayvon Britten, Western Hills, Sr, RB – Carried the ball 25 times for 308 yards and four touchdowns as the Mustangs fell to Mariemont, 43-40.
Cam Coomer, Wilmington, Sr, QB/WR – Threw for 154 yards, ran for 100 yards, had 85 yards on one reception, accounted for three touchdowns (two pass, one rush) and had an interception on defense in the Canes 56-24 win over Miami Trace.
Keith Farr, Lebanon, Jr, RB – Posted personal bests of 155 yards and five touchdowns rushing as Lebanon walloped Loveland, 50-20.
Daniel Felix, Covington Catholic, Sr, FB/LB – Recorded 12 total tackle had three sacks, 86 yards rushing, a touchdown and the game winning two-point conversion in the Colonels 39-38 victory over Lexington Catholic.
Jackson Gifford, Ross, Jr, RB – Carried the ball eight times for 135 yards with three first half touchdown run in the Rams 42-3 triumph over Monroe.
Ryan Hamm, Madeira, Sr, WR/DB – Racked up 393 all-purpose yards, caught six balls for 201 yards with three touchdowns receptions and had a 80-yard fumble recovery for a s score as the Mustangs mauled Clermont Northeastern, 33-7.
Jackson Hardin, Scott, Sr, RB/DB – Was in on five tackles, snared two interceptions, blocked a punt and had three receptions for 25 yards as the Eagles soared by Holy Cross, 42-6.
Jared Hicks, Conner, Sr, QB/DB – Threw four touchdowns in the first three quarters and ran for one in the fourth with 277 passing, 47 rushing as the Cougars shutout Dixie Heights, 35-0.
Simon Keating, Newport, Jr, WR/DB – Had three receptions for 164 yards and three touchdowns as the Wildcats improved to 3-0 after beating Carroll County, 42-0.
Corey Kiner, Roger Bacon, Jr, RB – Amassed 279 all-purpose yards (164 rush, 80 rec) with three rushing touchdowns as the Spartans ran by Newport Central Catholic, 41-14.
Marshall Lang, St. Xavier, Sr, WR – Hauled in eight receptions for 113 yards with three touchdowns as the Bombers got by Colerain, 21-14.
Kaidan Naughton, Turpin, Jr, WR – Had four touchdown receptions on six catches for 85 yards as The Spartans slayed Northwest, 41-7.
Keyshawn Stephens, Hamilton, Jr, RB – Ran for 115 yards, had three receptions for 44 yards and found the end zone four times (three rush, one rec) as Hamilton took down Anderson, 28-14.