Dayton Round-Up: Carroll extends Alter's skid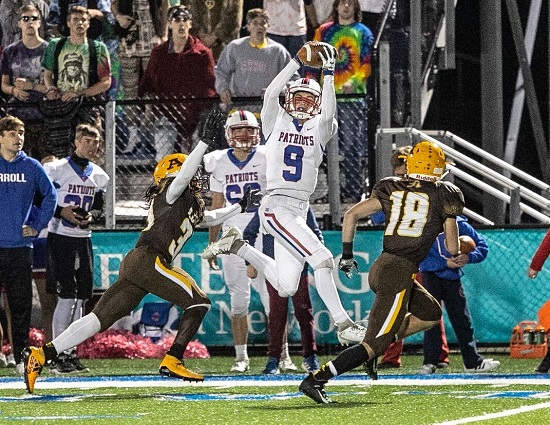 Carroll WR Steve Chapman (photo by Shelby Frieszell/TriStateFootball.com)
A gritty fourth quarter comeback saw Carroll score a touchdown on a Trent Fox 6-yard pass to Donovan LaJeunesse with just 12 seconds left in the game to defeat Alter for the first time as a member of the Greater Catholic League. This had been a one-sided beat down over the previous eight years, all Alter victories. The Knights outscored Carroll by a combined 365-26 with six shutouts and an average margin of victory of 42.4 points in that span.
Fox threw for 223 yards and ran for the Patriots other score. Junior Steve Chapman had nine receptions for 135 yards. He was also a factor on special teams with a 30-yard field goal and a 40.4 yard average on five punts. LaJeunnese had seven catches for 46 yards.
Alter outgained Carroll 280 to 36 yards rushing. Branden McDonald had 224 of those yards and the teams only touchdown. The Knights have now dropped three in a row. They have scored just 31 points during their losing streak.
PIQUA 21, GREENVILLE 7
In a must have win situation in order to keep playoff hopes alive, Piqua (4-4, 4-2) got a gritty performance to get past Greenville (5-3, 4-2). A harassing Indians defense forced five turnovers and held the Green Wave to less than 100 yards passing and rushing. The Piqua offense churned out 300 yards on the ground which lead to an almost eight-minute advantage in time of possession.
Junior Caron Coleman led the way, running for 136 yards with all three of the Indians touchdowns. The junior also had seven solo tackles and an interception on defense. Coleman has now run for more than 100 yards four times in the last six games. He upped his season total to 739 yards and 12 touchdowns rushing.
Greenville is still very much in the playoff hunt in Division III, Region 12 but a victory would have put them in a position to possibly host a postseason contest. The Green Wave finishes with two teams that are below .500 in rapidly fading Butler (2-6, 1-5) and the very pesky Sidney (3-5, 2-3) Yellow Jackets.
NORTHMONT 41, MIAMISBURG 7
Quarterback Keaton Kesling remains red-hot torching the Miamisburg defense as Northmont flew past the Vikings. The Thunderbolts built a 38-0 halftime lead behind Kesling's arm. The defense also did its parts for the victors, forcing three turnovers and holding the visitors to a combined 2-12 on third and fourth down conversions attempts.
Kesling went 26-32 for 343 yards and three touchdowns. He now has multiple touchdowns passing in seven straight games and at least three scoring strikes five times in that same span. The senior also threw for at least 3000 yards for a second consecutive week and third time on the season. Kesling raised his season totals to 2,175 and 23 touchdowns through the air.
Doing the damage with the ball in their hands for Northmont were running back Michael Franklin who racked up 120 yards from scrimmage (18 rush, 39 rec) and found the end zone three times in the games first 18 minutes. Receiver Marcus Allen had 10 receptions for 148 yards and a touchdown. It was the third straight week that Allen has had 140 -plus yards receiving. Justin Golson caught six balls for 77 yards and a touchdown.
Here are some other scores from Dayton area teams in action on Friday night:
GWOC
Wayne 13, Fairmont 7 OT
Springboro 52, Lebanon 3
Trotwood-Madison 49, Beavercreek 7

GCLC
Chaminade Julienne 14, McNicholas 10
Badin 34, Fenwick 6
MVL
Troy 9, Fairborn 7
Sidney 49, West Carrollton 25 – SID: Sophomore EJ Davis had career highs of 281 yards and four touchdowns rushing.
Xenia 37, Tippecanoe 3 – XEN: Bucs have given a grand total of 10 points in their last five games/wins.
Stebbins 21, Butler 13
DPL
Dunbar 55, Meadowdale 0
Belmont, Ponitz
SWBL
Waynesville 48, Carlisle 14 – WAY: Spartans 10-2 in their last 12 games.
Valley View 49, Milton-Union 48 OT
Preble Shawnee 47, Dixie 13
Franklin 42, Eaton 0 – FRA: Braden Woods a career high five touchdown passes.
Bellbrook 41, Brookville 0
Madison Senior 27, Northridge 0
Monroe 35, Oakwood 14