Springfield offense lights up Centerville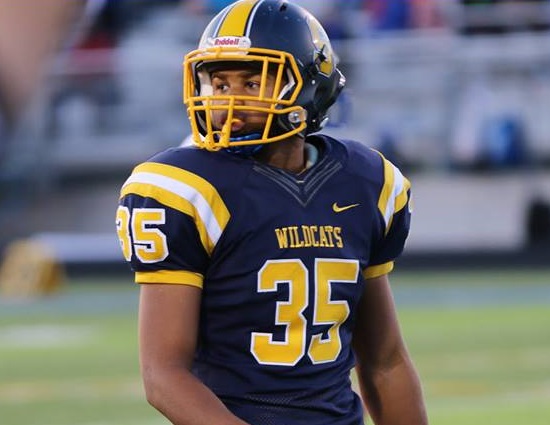 Springfield RB Jeff Tolliver (photo courtesy of ScoutingOhio.com)
SPRINGFIELD, Ohio – The home team Wildcats built a 27-0 lead midway through the second quarter and never broke stride in warding off Centerville. It was the sixth straight win for Springfield who has been nothing short of outstanding during the streak. They have built double-digit leads by halftime in every one of those victories.
Springfield racked up 550 yards of total offense (279 pass, 271 rush). It was the third time this season that the Wildcats have topped the 500-yard mark in total offense. Senior running back Jeff Tolliver carried the ball 12 times for 201 yards and three touchdowns. Classmate Larry Stephens hauled in nine catches for 207 yards and two scores. It was the fifth time for both to be over 100 yards rushing/receiving. Sophomore T'Sean Smoot threw for 279 yards with two touchdowns passing and one rushing. Smoot has now thrown at least one touchdown pass in every game this season.
Centerville made a game of it late with 21 fourth quarter points. Springfield answered the last two scores keeping the Elks at bay. Centerville sophomore Chase Harrison accounted for all three of those touchdowns with a run and two touchdown passes. He finished the contest with 366 yards and three touchdowns through the air. Receiver Will Linkhart had 12 receptions for 206 yards and a touchdown. Harrison's classmate, Cam Smith reeled in nine catches for 117 yards and found the end zone twice.
SCORING BY QUARTERS
Centerville 0-7-0-21-28
Springfield 20-7-0-14-41
SCORING PLAYS
S: Te'Sean Smoot 2 run (Cole Yost kick)
S: Larry Stephens 10 pass from Smoot (Yost kick)
S: Jeff Tolliver 52 run (kick failed)
S: Stephens 71 pass from Smoot (Yost kick)
C: Cameron Smith 5 pass from Chase Harrison (Brendan Salo kick)
C: Smith 17 pass from Harrison (Salo kick)
C: Harrison 1 run (Salo kick)
S: Jeff Tolliver 22 run (Yost kick)
C: Will Linkhart 66 pass from Harrison (Salo kick)
S: Jeff Tolliver 30 run (Yost kick)
RECORDS: Centerville (4-4, 2-2); Springfield (7-1, 3-0)
UP NEXT: Centerville at Northmont (3-4, 1-2); Springfield at Wayne (2-5, 1-1)