Turpin converts, remains undefeated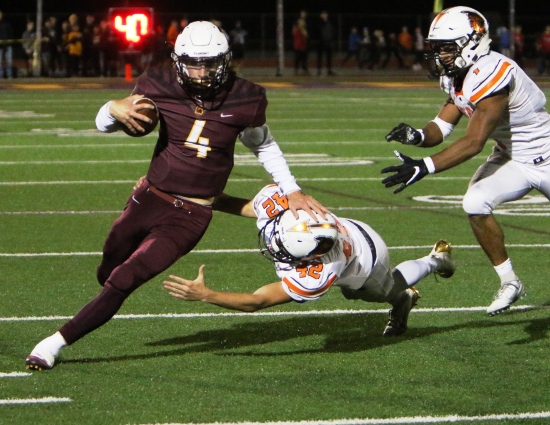 CINCINNATI, Ohio – In a rivalry game that rarely disappoints Turpin eked by Anderson in a thriller that will go down as one of the best-ever in the series. Down 28-21 with 1:05 left in the game Turpin got a 70-yard touchdown pass from Justin Silverstein to Josh Bell. That put the Spartans down by one point. Silverstein hit Max Gundrum on the two-point conversion to give Turpin a 29-28 victory in this week's Blitz 5 Game of the Week.
The Spartan's defense has been very good in the first half of games. Anderson became the sixth foe to score seven points or fewer by intermission against Turpin this season.
Silverstein threw four touchdown passes in this affair, two to Bell and two to Logan Hurley. It was the fourth time in the last seven contests that Silverstein has thrown four scoring strikes in a game for the unbeaten Spartans. He now has 19 touchdown passes on the year.
The Redskins came out with a fury in the second half, scoring 21 points in the third quarter to take a 28-12 lead. It was the most points that Turpin has allowed in a game this year. The Spartans' defense got stingy after that holding Anderson scoreless over the final 14-plus minutes.
The road to the playoffs get tougher for Anderson with three losses. The good news for the Redskins is that they finish the with two teams that are below .500 for the season.
Turpin is in the same situation taking on lesser opponents. The Spartans however are playing to host a playoff game.
SCORING BY QUARTERS
Anderson 0-7-21-0-28
Turpin 7-7-7-8-29
SCORING PLAYS
T: Josh Bell 9 pass from Justin Silverstein (Miles Molloy kick)
A: Jerrick McClanahan 37 pass from Jackson Kuhn (Hayden Brooke kick)
T: Logan Hurley 21 pass from Silverstein (Molloy kick)
A: Andrew Williams 30 pass from Kuhn (Brooke kick)
T: Hurley 21 pass from Silverstein (Molloy kick)
A: Snyder 8 pass from Kuhn
T: Bell 70 pass from Silverstein (Silverstein pass to Max Gundrum)
RECORDS: Anderson (5-3, 4-1); Turpin (8-0, 5-0)
UP NEXT: Anderson at Walnut Hills (4-4, 2-3); Turpin at Withrow (3-5, 2-3)
*Stay updated on high school football updates by following @TSFootball on Twitter.
+++
Check out these great photos from TSF Senior Photographer Dan Beineke: