Cincinnati Round-Up: Elder outlasts Winton Woods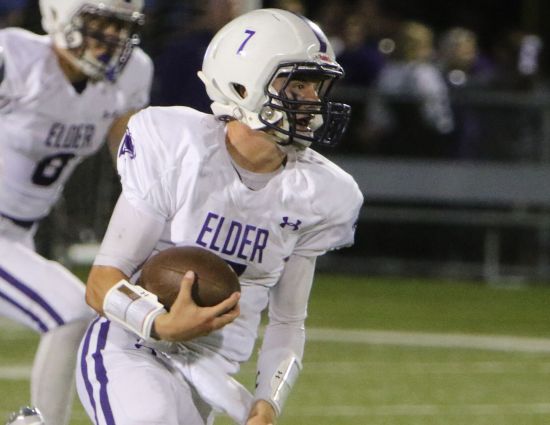 This game had all the hype coming in and it did not disappoint. These teams combined for 873 yards, with the Panthers squeaking out a 42-37 win. Both teams entered this game having great offenses and suspect defenses, and that's exactly what we saw from both sides yet again.
For the Panthers, virtually everyone got into the action. The machine started with QB Matthew Luebbe, who is the front runner for GCL South Offensive Player of the Year. He had 235 passing yards and three touchdowns. On the ground, he had 168 yards and added a score there as well.
Evan Vollmer, Joe Royer, Drew Ramsey, and Joseph Cantina all found the end zone in this game. Elder has scored 30 or more points in every game this season.
For the Warriors, their superstar running back Miyan Williams was held in check. He only had 68 rushing yards on 15 attempts, but did account for a touchdown. Dameer Blankumsee had himself a game. A 99-yard kickoff return for a score, 76 receiving yards and a touchdown, and a rushing touchdown as well.
Both teams were incredibly efficient on third down, and there was only one turnover in the whole game. The Warriors have now lost two of their last three games. After a La Salle win over St. Xavier , Elder is on a collision course with the Lancers in the final week of the season, and the GCL South title will be on the line.
No. 3 Colerain 33, No. 15 Mason 28
Playing their closest league game in years, the Cards squeaked by the Comets to push their GMC winning streak to 81 games.
Regardless of the outcome, this was Mason's gutsiest performance of the season. They gave Colerain everything they could handle. It was the Jaylen Thomas show for the Cards. He rushed for 167 yards on 12 attempts with two scores. Sean Williamson was the defensive star of the game, recording 13 total tackles.
Two-way star Deshawn Pace had an interception on defense, and scored a touchdown on offense. Both teams mustered over 300 total yards, but the difference in this game was turnovers. Mason had two, while Colerain had none.
Freddie Johnson accounted for two scores with 65 yards on the ground. Jack Cooper was uncoverable for Mason, as he had seven catches, 117 yards and a score. Nolan McCormick also had a good game, rushing for 88 yards and accounted for two touchdowns.
No. 9 Lakota West 16, No. 13 Lakota East 7
Lakota West finally gets on the winning side of this rivalry, and they did with a defense that's been absolutely rolling. With only seven points given up tonight, that makes it three straight games they have given up single digit points.
West did it exactly how they wanted to on offense. They outgained the Thunderhawks 155-77 on the ground, and 275-128 in total yards. East shot themselves in the foot by turning the ball over three times.
David Afari accounted for both touchdowns. He had 76 rushing yards on 23 attempts, while also reeling in a 42-yard catch. The only bright spot for East was a Charlie Kernich 5-yard score. The Firebirds have won three in a row and move to 6-2. Lakota East has lost three of its last four, and move to 4-4.
No. 24 Little Miami 24, No. 22 Ross 21
Little Miami started off slow in this game, going down 14-0. After that, they went on a 24-7 run the rest of the game, and now take control of second place in the SWOC.
The win came at a price for the Lions, as they lost star QB Brody Reder to a shoulder injury. Both teams executed their game plan well. The running Rams gained 436 yards on the ground, while Little Miami only had 71. Through the air, Little Miami had 203 yards to Ross's 2.
The two downfalls for Ross came on turnovers and penalties. The Rams turned it over twice, and had 10 penalties for an eye popping 134 yards. This will be a tough pill to swallow for head coach Kenyon Commins and the rest of the crew.
Here are some other scores from Cincinnati teams ranked inside our Blitz 5 Top 25:
#7 La Salle 22, #2 St. Xavier 15 (COMPLETE RECAP)
#4 Fairfield 31, #15 Sycamore 3
#10 Harrison 55, Franklin County (IN) 7
#11 Turpin 29, #16 Anderson 28 (COMPLETE RECAP)
#12 Princeton 40, Oak Hills 7
#17 Wyoming 37, Finneytown 0
#19 Hamilton 41, Middletown 24
#23 Clinton-Massie 63, New Richmond 0
#25 Franklin 42, Eaton 0
*Stay updated on high school football updates by following @TSFootball on Twitter.