VOTE: Week 7 Player of the Week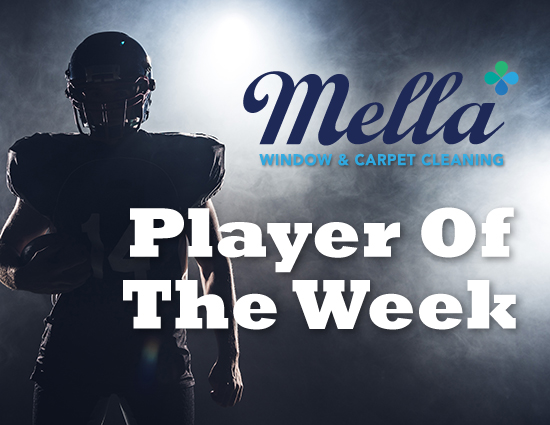 TriStateFootball.com is proud to present the Mella Window & Carpet Cleaning Player of the Week for the 2019 regular season. Players will be nominated from the Cincinnati, Northern Kentucky and Eastern Indiana areas.
Each week a group of nominees will be selected from a large list of some of the area's top performances and will be included in an online voting poll to determine a winner. The poll will launch weekly on Sundays. Voters can vote once per hour, per IP address through Wednesday at 12:00 PM Eastern weekly.
Once a player has won, they were ineligible to be nominated a second time. Players can only be nominated three times during the course of the season.
All of the season winners will be recognized and receive a plaque at the TriStateFootball.com Year in Review Show in February (more details announced during postseason).
+++
Take advantage of this internet special at Mella Window & Carpet Cleaning:

Whole house window cleaning $179 – COMPLETE DETAILS
+++
Here are this week's nominations…
Chase Crone, Simon Kenton, Fr, QB – Piled up 329 yards of total offense (241 pass, 88 rush) and accounted for four touchdowns (three pass, one rush) as the Pioneers outlasted Dixie Heights, 43-27.
Jacob Duty, New Richmond, Sr, RB – Had 14 carries for 247 yards and three touchdowns as the Lions roared past Batavia.
Jackson Gifford, Ross, Jr, RB – Carried the ball 14 times for 181 yards and three touchdowns as the Rams improved to 6-1 after a win over Northwest.
Seth Greene, Mariemont, Jr, RB – Ran for 148 yards and three touchdowns on 16 rushes as the Warriors blanked Finneytown, 28-0.
Dalton Guthrie, South Dearborn, Sr, RB – Grinded out 230 yards and two touchdowns rushing and had two scores receiving as the Knights shutout Rushville, 39-0.
Paul Kremer, Newport Central Catholic, Sr, QB – Went 11-12 for 137 yards and five touchdowns passing as the Thunderbolts won their fourth straight after beating Ludlow.
Elijah McGee, Wyoming, Sr, RB/DB – Racked up 199 all-purpose yards including 115 yards and two touchdowns rushing, had three solo tackles with an interception as the Cowboys handed Deer Park its second loss of the season.
Kaidan Naughton, Turpin, Jr, RB – Piled up 226 yards and five touchdowns rushing on 14 totes helping the Spartans to remain unbeaten.
Jordan Robinette, New Miami, Jr, ATH – Tallied one-and-a-half sacks, recovered two fumbles, pied up 194 all-purpose yards (113 rushing) and found the end zone twice as the Vikings improved to 7-0.
Brandon Smith, Fairfield, Jr, DL – Recorded two-and-a-half sacks, had four solo tackles and forced a fumble as the Indians pulled away from Princeton, 37-13.
Cole Stammer, Beechwood, Jr, RB/DB – Ran for two touchdowns, recovered a blocked punt for a score and had an interception as the Tigers blew past Holy Cross, 68-6.
Ty Stylski, Kings, Jr, RB – Amassed 308 all-purpose yards including a career high 252 yards rushing with three touchdowns as the Knights knocked off Walnut Hills.
Noah Taylor, St. Xavier, Sr, LB – Tallied six tackles, had a sack, averaged 40.2 yards on six punts and returned a fumble 59-yards for a touchdown as the Bombers beat Clarkson North (ONT).
*Nominate players weekly by emailing us at staff@tristatefootball.com by 9AM Sunday mornings.