VOTE: Week 8 Player of the Week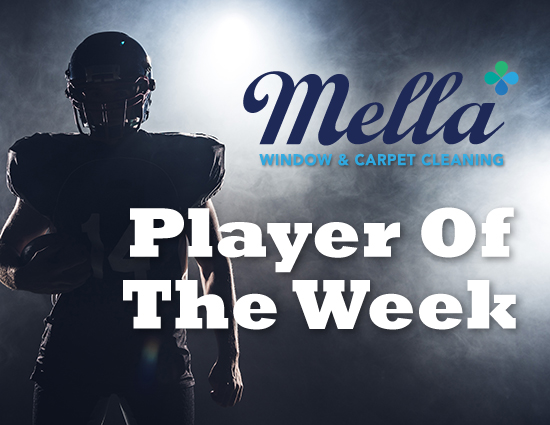 TriStateFootball.com is proud to present the Mella Window & Carpet Cleaning Player of the Week for the 2019 regular season. Players will be nominated from the Cincinnati, Northern Kentucky and Eastern Indiana areas.
Each week a group of nominees will be selected from a large list of some of the area's top performances and will be included in an online voting poll to determine a winner. The poll will launch weekly on Sundays. Voters can vote once per hour, per IP address through Wednesday at 12:00 PM Eastern weekly.
Once a player has won, they were ineligible to be nominated a second time. Players can only be nominated three times during the course of the season.
All of the season winners will be recognized and receive a plaque at the TriStateFootball.com Year in Review Show in February (more details announced during postseason).
+++
Take advantage of this internet special at Mella Window & Carpet Cleaning:

Whole house window cleaning $179 – COMPLETE DETAILS
+++
Here are this week's nominations…
Alec Delong, Badin, Sr, RB – Ran for 116 yards and three touchdowns as the Rams foiled Fenwick, 34-6.
Rodney Harris, Princeton, Jr, WR – Had 96 and 39-yard touchdown receptions with in 38 seconds of each other while finishing with four catches for 150 yards as the Vikings vaulted past Oak Hills.
Hunter Henry, Kings, Sr, DB – Snared three interceptions including a 95-yard pick six as Knights mauled Milford, 52-7.
Kaleb Johnson, Hamilton, So, RB – Ran the ball 29 times for 229 yards and four touchdowns as the Big Blue beat Middletown.
Corey Kiner, Roger Bacon, Jr, RB – Ran for 322 yards on 15 carries with seven touchdowns on the ground and had a 78-yard kickoff return for a score as the Spartans upended CHCA.
Connor Kinnett, Harrison, Sr, QB – Fired six touchdowns with 367 yards through the air on 19-23 attempts as the Wildcats won their sixth straight.
Brandon Lanier, Mount Healthy, Sr, QB – Found the end zone seven times with 250 yards rushing and had a touchdown pass as the Owls flew past Northwest, 54-20.
Quincy Perrin, Scott, Sr, RB – Carried the balls 16 times for 200 yards and two touchdowns as he surpassed 4,000 career yards rushing in the Eagles win over Boyd County.
Justin Silverstein, Turpin, Sr, QB – Threw for 342 yards with four touchdowns (no interceptions) and the deciding two-point conversion as the Spartans nipped Anderson, 29-28.
Devonte Smith, La Salle, Jr, WR/DB – Had his first five receptions of the year for 112 yards and two touchdowns as the Lancers shocked St. Xavier, 22-15.
Tyler Tracey, Monroe, Sr, RB – Amassed 202 all-purpose yards, had 100 yards and two touchdowns rushing as the Fighting Hornets won their first game of the year.
Drew Warth, Cooper, So, QB – Threw for career highs of 261 yards and three touchdowns as the Jaguars blanked Boone County, 54-0.
Mason Williams, Beechwood, Sr, WR/DB – Snared nine receptions 75 yards and had a 40-yard pick six as the Tigers roared past Lloyd, 37-0.
Garrett Yoon, Lawrenceburg, So, QB – Completed 13-of-20 passes for 400 yards and six touchdown passes, including three to his older brother Gavin, as the Tigers rolled by South Dearborn, 55-20.
*Nominate players weekly by emailing us at staff@tristatefootball.com by 9AM Sunday mornings.