NKY Round-Up: Conner handles Highlands again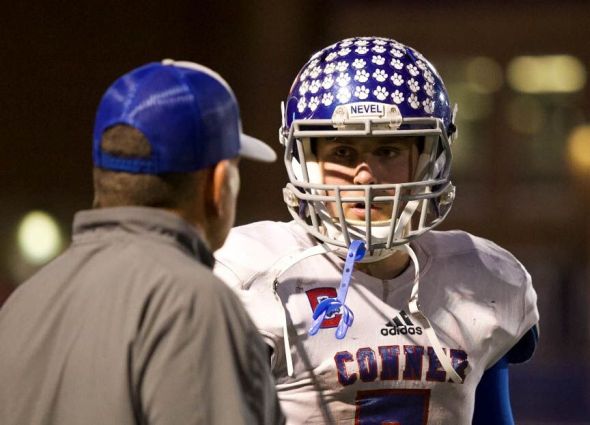 Conner got a huge effort from senior quarterback Jared Hicks and some timely defensive plays to complete the season sweep over their new district rival, the Highlands Bluebirds, with a 38-28 win in a thriller in Hebron.
After a scoreless first quarter both teams got things going in the second quarter with a pair of touchdowns, leading to Conner having a 16-14 edge at intermission.
Senior Jared Hicks took over in the second half with big play after big play. He was the catalyst for the Cougars as he tallied 247 yards and three touchdowns on 24-for-33 passing. The signal caller also rushed for 36 yards and a score on 13 carries and added a two-point conversion.
Justin Daniels led all receivers with nine catches for 106 yards. Teammate Colton Roy added seven receptions for 83 yards and a pair of scores in the win.
Collin Hollingsworth finished off his career with 134 yards passing a two touchdown passes in the loss for the Bluebirds.
Covington Catholic 41, Cooper 6
The Colonels' quest to return to the 5A state championship for a third straight year started in grand fashion in their opening round victory against Cooper.
CovCath got on the scoreboard less than two minutes into the game and that would prove to be all the points they would need. The Colonels scored 21 points before the quarter was over and put the game on a running clock before the half.
Caleb Jacob completed 7 of his 8 passes for 112 yards and a touchdown and ran for another. Andy Molique pulled in that TD pass on a 20-yard catch and added a 33-yard pick six in the win. The Colonels' D was once again the story in this one as they forced six turnovers, including five interceptions and for the tenth time in 11 contests held their opponents to seven points or less.
Dixie Heights 18, Ryle 6
After winning just one game a year ago, the Colonels have turned things around nicely this season. That effort was evident in Friday night's Week 11 win at Ryle.
Both defenses dominated the contest for the first three quarters with Dixie Heights putting the only points on the board with a safety in the opening quarter. The game opened up in the final 12 minutes.
Brayden Wulfeck returned a blocked field goal to the house for the Colonels, but the extra point was blocked on the other end and Dixie went up 8-0. Logan Sanders added a 32-yard field goal three minutes later and Logan Sanders put the nail in the coffin with a 23-yard TD pass to Kel Hawkins with 3:26 left in the game.
Ryle finally dented the scoreboard with a Kyle England 4-yard TD run in the game's final minute. England finished his final high school game with 84 yards on 22 carries.
Newport Central Catholic 52, Dayton 14
NewCath cruised to a opening-round victory versus Dayton in Class 1A action behind a complete team effort.
Jamir Ackerson and Luke Landrum each ran for a pair of scores in the victory. Ackerson led all rushers with 124 yards on just five carries and Landrum added 31 yards on four touches. Paul Kremer completed 9-of-13 passes for 145 yards in limited action.
The Thoroughbreds dominated time of possession with a 31-to-14 minute advantage and won the turnover battle (+2) and allowed Dayton to convert just 4-of-13 third-down conversions.
Here are some other scores from Northern Kentucky playoff action:
Class 6A – District 6
Simon Kenton 24, Campbell County 14
Class 4A – District 6
Holmes 21, Harrison County 0
Scott 29, Rowan County 7
Class 2A – District 6
Beechwood 63, Holy Cross 0
Newport 28, Lloyd Memorial 16
Class 2A – District 5
Walton-Verona 41, Gallatin County 6
Owen County 39, Carroll County 22
Class 1A – District 4
Ludlow 43, Bellevue 20
Class 1A – District 5
Bishop Brossart 36, Paris 0
Be sure to follow @TSFootball for updates all week long & catch Blitz 5 Friday nights at 11PM on WLWT-TV Channel 5 for the best high school football playoff coverage in the city!