St. Xavier blitzes Mason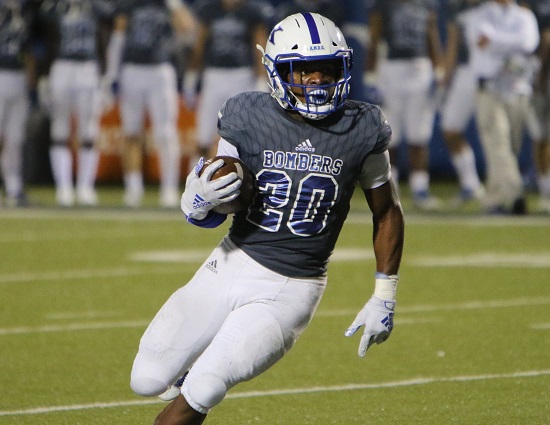 Kellen Newman ran for a career high 172 yards and a pair of touchdowns as St. Xavier scored 41 unanswered points after trailing Mason 20-7 midway through the second quarter.
The number #1 seeded Bombers shrugged off a shaky start then got it going in all phases of the game flying past the Comets, 48-20, to advance to the semifinals of the Division I, Region 4 playoffs. Mason's last three losses were by eight, six and five points. For them to get blown out was totally unexpected.
Mason moved the ball at ease on St. Xavier in the first half and put up 20 straight second-quarter points after falling behind 7-0.
Running back Noland McCormick led the Comets with 94 yards rushing. Senior quarterback Collin Brown ends his career as a Comet with a personal best 269 yards passing and two touchdowns. Mason out gained the Bombers by a yard, 370-369 on the night.
Everything just seemed to click for St. Xavier. Early on it was a pair of touchdown passes from Matthew Rueve to Marshall Lang. It was another big evening for Lang, who finished with six receptions for 103 yards. It was the senior's fifth game of 100-plus yards receiving. He now has 10 touchdown catches.
Then it was Newman's turn to own the stage. He tore off big chunks on his way to his second 100-yard rushing performance of the season. The senior also had a career best 52-yard reception. Two unconditional scores wrapped the Bombers' explosion on the scoreboard.
St. Xavier will face Elder in a rematch from Week 6. The Panthers handed the Bombers their first loss of the season, 31-28. Elder never trailed in that affair. St. Xavier did march up and down the field with 434 yards of total offense against the Panthers' defense.
SCORING BY QUARTERS
Mason 0-20-0-0-20
St. Xavier 7-6-14-21-48
SCORING PLAYS
S: Marshall Lang 5 pass from Matthew Rueve (Mason Rohmiller kick)
M: Kaden Evans 5 run (Brooks Curran kick)
M: Nolan McCormick 31 run (Curran kick)
M: Alec Dardis 2 pass from Collin Brown (kick failed)
S: Lang 6 pass from Rueve (kick failed)
S: Kellen Newman 6 run (Rohmiller kick)
S: Luke Vrsansky 4 run (Rohmiller kick)
S: Newman 4 run (Rohmiller kick)
S: Eli Kirk 100 interception return (Rohmiller kick)
S: Tucker Hundley 58 punt return (Noah Taylor kick)
RECORDS: Mason (5-6); St. Xavier (9-2)
UP NEXT: St. Xavier vs. Elder (9-2), site TBD
Be sure to follow @TSFootball for updates all week long & catch Blitz 5 Friday nights at 11PM on WLWT-TV Channel 5 for the best high school football playoff coverage in the city!