VOTE: Week 10 Player of the Week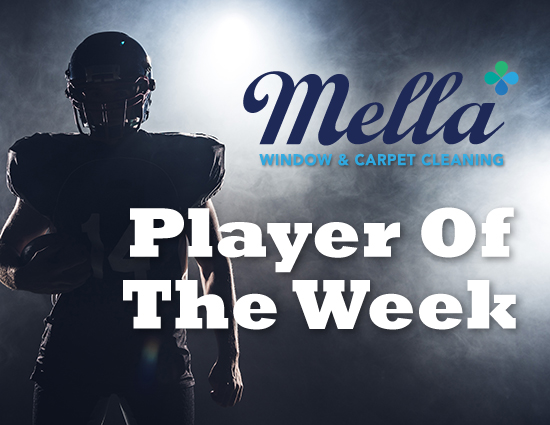 TriStateFootball.com is proud to present the Mella Window & Carpet Cleaning Player of the Week for the 2019 regular season. Players will be nominated from the Cincinnati, Northern Kentucky and Eastern Indiana areas.
Each week a group of nominees will be selected from a large list of some of the area's top performances and will be included in an online voting poll to determine a winner. The poll will launch weekly on Sundays. Voters can vote once per hour, per IP address through Wednesday at 12:00 PM Eastern weekly.
Once a player has won, they were ineligible to be nominated a second time. Players can only be nominated three times during the course of the season.
All of the season winners will be recognized and receive a plaque at the TriStateFootball.com Year in Review Show in February (more details announced during postseason).
+++
Take advantage of this internet special at Mella Window & Carpet Cleaning:

Whole house window cleaning $179 – COMPLETE DETAILS
+++
Here are this week's nominations…
Crew Berkley, Campbell County, Sr, QB – Accounted for all three touchdowns (one pass, two rush) as the Camels beat Boone County for their first win of the year.
James Camden, Anderson, Sr, QB – Racked up 239 all-purpose yards, amassed 316 yards of total offense (126 pass, 190 rush), accounted for five touchdowns (four rush, one pass) and had an interception as Anderson pummeled Loveland, 63-8.
Liam Clifford, St. Xavier, Jr, WR – Snared six receptions for 151 yards, with 233 all-purpose yards and three touchdown catches as the Bombers knocked off Louisville St. Xavier, 35-30.
Deanza Duncan, New Miami, Jr, WR/DB – Amassed 261 all-purpose yards including 169 yards on three receptions with two touchdowns and had an interception as the Vikings beat Lockland an finish 10-0 for the first time in school history.
Jake Fike, East Central, Jr, RB – Churned out 286 yards and five touchdowns rushing as the Trojans got past Greenwood and improve to 11-0.
Cody Kramer, Ludlow, Sr, RB – Rushed for two scores and 138 yards on 15 attempts to lift the Panthers over the visiting Holy Cross Indians, 26-25.
Josh Laine, Lakota West, Sr, K – Hit field goals from 39 and 42-yards and connected on all five of his extra point attempts as the Firebirds took out Middletown.
Leon Marshall, Dixie Heights, Sr, RB – Ran for four touchdowns to help the Colonels rally back from a 14-point deficit and beat Scott 43-20 to wrap out the regular season.
Jordan McConnel, Sycamore, Sr, WR – Touched the ball nine times for 177 yards from scrimmage (98 rec, 79 rush and found the end zone three times as the Aviators flew past Oak Hills.
Evan Prater, Wyoming, Sr, QB – Ran for a career high 303 yards and scored all three of the Cowboys touchdowns in a 21-18 win over Indian Hill for the CHL title and a fourth straight 10-0 regular season.
Peyton Pugh, St. Bernard-Elmwood Place, Sr, QB/DB – Piled up 380 yards of total offense (248 rush, 132 pass), had two rushing touchdowns, one passing touchdown and returned a punt 71-yards for a score in the Titans win over Cincinnati Country Day.
Brody Reder, Little Miami, Sr, QB – Slung it for 466 yards with six touchdown passes (all in the games last three quarters) and had 105 yards rushing as the Panthers won wild one 48-35 over Simon Kenton.
Justin Silverstein, Turpin, Sr, QB – Threw for 372 yards and five touchdowns with no interceptions as the Spartans beat Milford to finish 10-0.
Levi Tidwell, Harrison, Sr, WR/DB – Hauled in seven receptions for 192 yards with two trips to the end zone and had an interception in the Wildcats win over Northwest.
*Nominate players weekly by emailing us at staff@tristatefootball.com by 9AM Sunday mornings.