Preview: CovCath vs. Frederick Douglass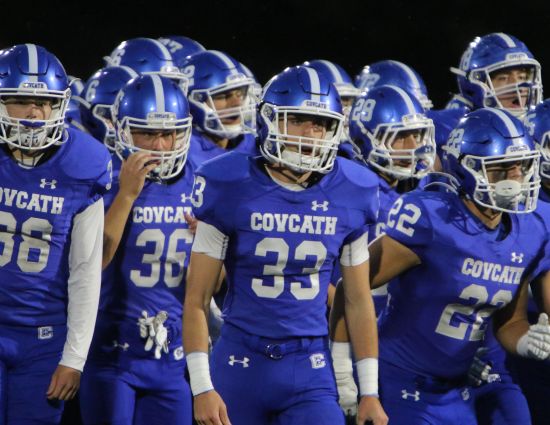 All expectations leaned in favor of these two powerhouses meeting in the state championship game. The talk is over and all the marbles will be on the line Saturday at Kroger Field. Both teams come in unblemished, and both teams won every playoff game by double digits. Each of these teams has a chance to enter the record books as one of the greatest single-season teams in Kentucky history.
With the dominance CovCath has displayed all season, they could leap to the top of that list. Both teams have a nice combination of experience and youth, and both teams are exceptionally well coached. With one more game to go in the season, all hands are on deck for supremacy of Class 5A inside the Bluegrass State.
NO. 1 COVCATH COLONELS (14-0) vs. NO. 2 FREDERICK DOUGLASS BRONCOS (14-0)
Saturday, December 7th 2019
Kickoff: 8:00 p.m.
Kroger Field, University of Kentucky
Follow on Twitter @TSFootball
PLAYERS TO WATCH: Covington Catholic senior TE/LB Michael Mayer is not only the best player in the state of Kentucky, but one of the best players in the nation. The Notre Dame commit won virtually every defensive award this season, while adding double digit touchdowns on offense. He is a player that can single handedly change a game, and the Colonels have a distinct advantage knowing they will have the best player on the field. Junior QB Caleb Jacob has flown under the radar, but has played extremely well in recent weeks. In the 28-0 win against Bowling Green, he was 16-24 with 240 yards passing and three touchdowns. His improvement has opened up the offense immensely. Senior RB Daniel Felix could ultimately be the X-factor in this game. He is a workhorse who you can hand the ball off to 20 times a game and control the clock. His combination of speed and power has been tough to deal with all season.
Senior RB Devin Neal will be crucial for the Broncos in the state title game. Coming off a game where tallied 100 yards on five attempts, including a touchdown against Owensburg, he will have to be effective. He has top-end speed and elusiveness, so getting him the ball in space will be a recipe for success. Senior LB Remarcus Thompson has been a one-man wrecking crew in the playoffs. He has totaled 33 total tackles and a fumble recovery in the past four games. He will have to be special and be a key cog in forcing turnovers and stuffing the run game. QB Josh McLurg has not been asked to do much this postseason, and that will certainly change in the championship game. The most attempts he has this postseason is 12, but the biggest number for him is 0. That's how many interceptions he has thrown in the playoffs. If they want to come out winners in this game, that number will have to stay put.
TEAM TRENDS: This is Covington Catholics third consecutive appearance in the Class 5A State Championship game. In 2017 they were victorious; in 2018 they came up just short. Now the Colonels want to make it two titles in three years. They have seven state championships in their program history, and are currently on a streak where they have won 58 of their last 59 games played.
For the Broncos, this is brand new territory as the school just opened in 2017. However, in just their third season of play they have arrived here by winning the regional and district championship. Now for the first time in school history they will be playing for a state title.
COVCATH'S KEYS TO VICTORY: Continue what they have been doing. This team has thoroughly dominated virtually everyone on their schedule, and have rolled through the playoffs. It all starts with the defense, as they now have six shutouts on the season. If they suffocate the Broncos like they have the rest of their opponents, their offense will have more chances to run the score up. This is the last game for Michael Mayer, we all know he will be excellent on defense, offensively the Colonels should find situations to get him one-on-one matchups. If Covington Catholic plays their brand of football, the state title is theirs to lose.
FREDERICK DOUGLASS' KEYS TO VICTORY: The Broncos MUST come out of the gates fast, and score early. The Colonels are a team that strike quickly. Fredrick Douglass cannot get down 14-0 early, otherwise the game will get out of hand quickly. Coming out with energy, and scoring on the first drive can give them confidence for the rest of the game. The defense has to play their best game of the year. The Broncos have nine shutouts this season, and the biggest play in last week's win against Owensburg was a pick six Jaylin Bybee. There has to be a game plan where they take away something for CovCath. Either stop the running game and make Caleb Jacob beat you with his arm, or have a bend, but don't break mentality. Let the Colonels gain yards, but focus in on red zone defense and force them to kick field goals. All in all, Fredrick Douglass has to be flawless if they want to win this game.
Prediction: Covington Catholic 31, Fredrick Douglass 13
*Pairing listed with record and final Associated Press rank.
Be sure to follow @TSFootball for updates all week long & catch Blitz 5 Friday nights at 11PM on WLWT-TV Channel 5 for the best high school football playoff coverage in the city!