2019 Kentucky OPOY Finalists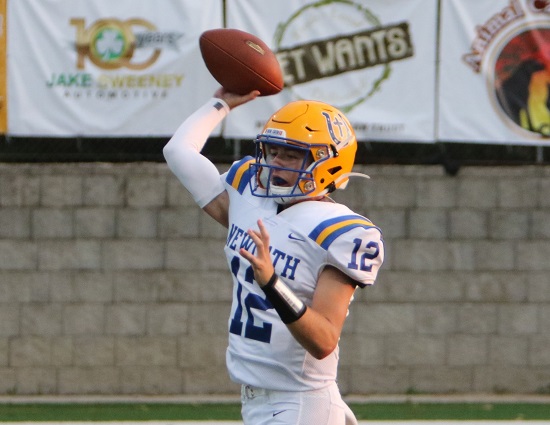 Newport Central Catholic QB Paul Kremer (photo by Dan Bieneke/TriStateFootball.com)
There are seven finalists for the 2019 TriState Football Kentucky Offensive Player of the Year. Two of them were named District Player of the Year. Five of the finalists are seniors and two are juniors. This is the first nomination for five players.
In the 13-year history of TSF Kentucky POY finalists awards. Michael Mayer and Quincy Perrin have the distinction of becoming the first two players to be nominated as finalists three times. There were 21 players before the duo that were two-time finalists dating back to 2007.
All finalist we be honored at the TriState Football 2019 Awards Show on Monday, February 17th at the Holy Grail – Banks in Cincinnati. For details and to RSVP, coaches parents and players can click on this link: TSF Year In Review Show
Here is a look at the finalists for the 2019 TSF Kentucky Offensive Player of the Year:
Paul Kremer (Newport Central Catholic), Sr, QB – Behind the arm of Kramer, Newport Central Catholic (9-3) made a run to the final eight in Class 1A. Kremer threw for 2,140 yards and 26 touchdowns (only five interceptions) to earn 2019 Class 1A, District 4 Player of the Year, Second Team All-NKY and Honorable Mention All-TSF accolades. He threw for 4,541 yards, with 55 touchdown passes and six rushing scores in his time at NewCath.
Jared Hicks (Conner), Sr, QB – It was a monster senior campaign for Hicks who threw for 2,756 yards, ran for 287 yards and accounted for 34 touchdowns (23 pass, 11 rush) as the Cougars finished 8-4 with two victories over Highlands. Hicks garnered First Team All-NKY and Honorable Mention All-TSF recognition for his work. He finishes his career with  4,030 yards passing, 567 yards rushing, 30 passing touchdowns, 16 rushing scores, 75 total tackles and four interceptions.
Caleb Jacob (Covington Catholic), Jr, QB – A model of consistency for the state champion Colonels. Jacob threw for 2,817 yards with 33 touchdowns passes and six more on the ground on his way to Honorable Mention All-TSF honors. Jacob will be chasing school records next season as he currently has 5,649 passing yards and 61 touchdown tosses (just 16 interceptions) in his career. The Colonels are 29-1 when Jacob starts at quarterback.
Michael Mayer (Covington Catholic), Sr, TE/LB – One of the greatest high school football players to ever lace them up in Northern Kentucky. Covington Catholic went 44-1 with two state titles in Mayer's three years as a starter. He was named 2019 KFCA Kentucky Mr. Football, Class 5A, District 5 Player of the Year, CJ First Team All-Kentucky (TE), First Team All-NKY (TE & LB) and First Team All-TSF (ATH). Mayer is the reigning TSF Kentucky Defensive Player of the Year and a three-time TSF Kentucky Player of the Year finalist (on defense as a sophomore and junior). Mayer, who will suit up for Notre Dame, had 50 receptions for 970 yards, 15 touchdown catches and two scores rushing on offense. Defensively, he was in on 99 total tackles, with one-and-a half sacks, seven-and-a-half tackles for losses, forced five fumbles and snared four interceptions including the second pick six of his career. And what a career it was for Mayer. He finishes as the Colonels all-time leader with 2,231 receiving yards, 30 touchdown receptions, the single season record also with 15 and his 110 receptions are second most in school history. On defense, he racked up 276 total tackles (201 solo), four-and-a-half sacks, forced nine fumbles, recovered six fumbles and had five interceptions including two returned for touchdowns.
Quincy Perrin (Scott), Sr, RB – A TSF Kentucky Offensive Player of the Year finalist for a third straight season. Scott (8-5) grinded it out to a round of eight finish in Class 4A behind Perrin who ran for 1,783 yards and 24 touchdowns with another trip to the end zone receiving. He was named First Team All-NKY (for a second straight season) and Second Team All-TSF for the effort. Perrin ends his Eagles career with 5,061 yards rushing, 23 receptions for 261 yards and 65 touchdowns (62 rush, three rec).
Kyle England (Ryle), Sr, RB – What England did behind a smallish line, quarterback injuries and a brutal first seven games on the schedule was remarkable. The Raiders tailback ran for 1,159 yards and 20 touchdowns on his way to Second Team All-NKY and Honorable Mention All-TSF acclaim. England finishes his career at Ryle with 2,186 yards rushing, 40 receptions and 32 touchdowns (28 rush, four rec).
Jeremiah Lee (Cooper), Jr, WR/ATH – No matter where he lines up on the field, this First Team All-NKY (WR) and Honorable Mention All-TSF (ATH) selection is a threat to score any time he touches the ball. The versatile Lee found the end zone 11 times (seven rush, four rec, 1 KR) amassed 1,197 all-purpose yards including 416 yards on 34 receptions, 26 total tackles and three interceptions. He heads into his senior year with 3,113 yards of total offense (1,599 pass, 1,514 rush), 3,237 all-purpose yards (1,514 rush, 1,214 ret, 519 rec), 50 touchdowns (18 pass, 24 rush, four rec, two KR, one FR, one IR), 40 receptions, 36 total tackles and five takeaways (four INT, 1 FR).