2019 TSF Cincinnati Team of the Year: La Salle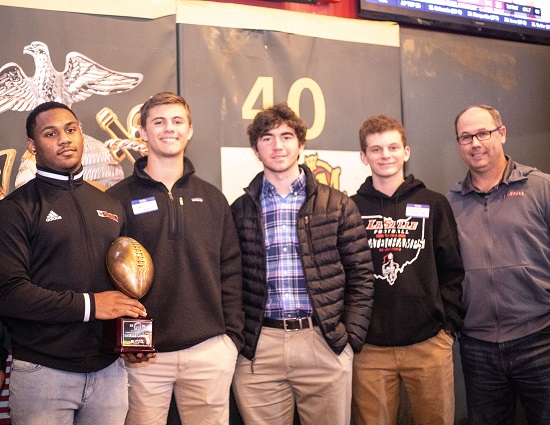 The La Salle Lancers - 2019 TSF Cincinnati Team of the Year (photo by Shelby Frieszell/TriStateFootball.com)
Division II state champion, La Salle was named the 2019 TriState Football Cincinnati Team of the Year as TSF paid tribute to finest from Cincinnati, Northern Kentucky, Dayton and Southeast Indiana area's high school gridiron at the Year in Review Show on Monday night, in front of a packed house at the Holy Grail, downtown Cincinnati. It was the fourth time in the last six years that the Lancers have earned the honor, all in state championship seasons for the program.
A large reason for La Salle's success was their balance in all phases of the game. The Lancers held opponents to just 13.1 points per contest. On special teams, the kicking game produced 90 points and averaged three touchbacks on kickoffs per tilt. La Salle averaged 32.9 points per game and amassed 5,266 yards of total offense. The Lancers had an average margin of victory 19.8 points per game.
La Salle went 13-2 in its third year under head coach Pat McLaughlin. During the regular season, the Lancers won GCL South title outright, besting Division I state runner-up Elder, St. Xavier and Moeller. They lost at Kentucky Class 5A state champion, Covington Catholic and to Winton Woods.
That tough regular season got La Salle more than ready for the playoffs. The Lancers took no prisoners, winning their five postseasons contests by 27.6 points per game. La Salle is now 22-1 in its last 23 playoff battles.
Cincinnati Teams of the Year
2019 – La Salle
2018 – Wyoming
2017 – Winton Woods
2016 – La Salle
2015 – La Salle
2014 – La Salle
2013 – Loveland
2012 – Moeller
2011 – Kings
2010 – McNicholas
2009 – Winton Woods
2008 – Elder
2008 – St. Xavier