2019 TSF Dayton Team of the Year: Springfield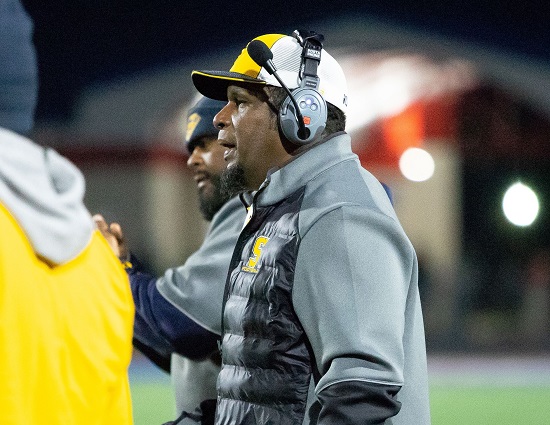 Springfield head coach Moe Douglass (photo by Shelby Fieszell/TriStateFootball.com)
A momentous season from Springfield saw them be named the 2019 TriState Football Dayton Team of the Year as TSF paid tribute to finest from Cincinnati, Northern Kentucky, Dayton and Southeast Indiana area's high school gridiron at the Year in Review Show on Monday night at the Holy Grail, downtown Cincinnati.
The Wildcats went 12-2 winning Division I, Region 2 and making the school's first ever first final four appearance. Head Coach Moe Douglass upped his record to 39-28 six years at Springfield and 140-82 overall.
Springfield had eight wins by 23 points or more. The Wildcats beat Division III state champion Trotwood-Madison, 21-20 in the regular season finale. They lost to Elder, 31-24 in the state semi-finals and only regular season loss was to Fairfield, 16-12.
On defense is where Springfield left its mark holding 11 opponents to 17 points or less. The Wildcats offense averaged 31.1 points per game.

Dayton Teams of the Year
2019 – Springfield
2018 – Alter
2017 – Trotwood-Madison
2016 – Wayne
2015 – Wayne
2014 – Wayne
2013 – Clinton-Massie
2012 – Clinton-Massie
2011 – Trotwood-Madison
2010 – Wayne
2009 – Alter