Mayer Makes History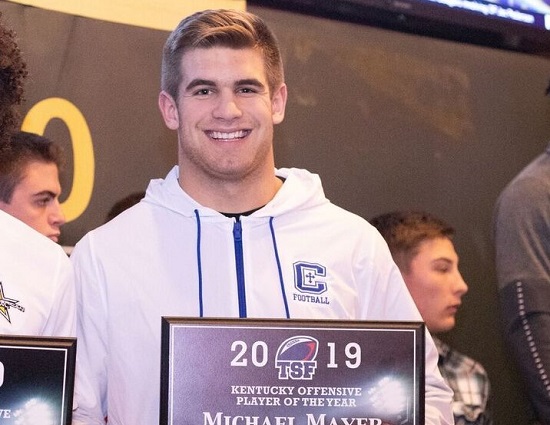 Covington Catholic TE/LB Michael Mayer (Shelby Frieszell/TriStateFootball.com)
There wasn't a better football player in the state of Kentucky than Michael Mayer and he proved that every Friday night. A game-changer, Mayer did it all for Class 5A state champion, Covington Catholic (15-0). Mayer was named 2019 TriState Football Kentucky Offensive Player of the Year as TSF paid tribute to finest from Cincinnati, Northern Kentucky, Dayton and Southeast Indiana area's high school gridiron at the Year in Review Show on Monday night, in front of a packed house at the Holy Grail, downtown Cincinnati.
In a year and a career filled with accomplishments and honors this may be the most impressive award for Mayer. In the 13-year history of TSF awards Mayer is the first to be named a TSF Player of the Year on both sides of the ball. Last season, he was named the TSF Kentucky Defensive Player of the Year and the only junior in the Bluegrass State to ever earned that honor. Mayer joins his brother, AJ, to become the only brothers to ever be named TSF Offensive Players of the Year. Mayer and Scott running back, Quincy Perrin, are the first two players to be named TSF Kentucky Player of the Year finalists three times.
Covington Catholic went 44-1 with two state titles in Mayer's three years as a starter. His accolades include being named 2019 KFCA Kentucky Mr. Football, Class 5A, District 5 Player of the Year, CJ First Team All-Kentucky (TE), First Team All-NKY (TE & LB) and First Team All-TSF (ATH). Mayer, who will suit up for Notre Dame, had 50 receptions for 970 yards, 15 touchdown catches and two scores rushing on offense for the Colonels. Defensively, he was in on 99 total tackles, with one-and-a half sacks, seven-and-a-half tackles for losses, forced five fumbles and snared four interceptions including a pick six.
Mayer finishes his career as Covington Catholic's all-time leader with 2,231 receiving yards and 30 touchdown receptions. He owns the single season record with 15 touchdown receptions and his 110 receptions are second most in school history. On defense, Mayer racked up 276 total tackles (201 solo), four-and-a-half sacks, forced nine fumbles, recovered six fumbles and had five interceptions including two returned for touchdowns.
The other Kentucky Offensive Player of the Year finalists were seniors – Kyle England (Ryle), Jared Hicks (Conner), Paul Kremer (Newport Central Catholic), Quincy Perrin (Scott)along with juniors Jeremiah Lee (Cooper) and Caleb Jacob (Covington Catholic).
TriStateFootball.com was founded in 2005 and started its postseason awards in 2007. Mayer is the 13th player to win the award. He becomes the third Colonel in a row and fourth overall to be named TSF Kentucky Offensive Player of the Year. Here the list of winners of this award all-time:
2019 – Michael Mayer (Covington Catholic)
2018 – Casey McGinness (Covington Catholic)
2017 – AJ Mayer (Covington Catholic)
2016 – Dante Hendrix (Cooper)
2015 – Dillon Powell (Simon Kenton)
2014 – Drew Moore (Dixie Heights)
2013 – Brenan Kuntz (Simon Kenton)
2012 – Blake Bir (Covington Catholic)
2011 – Patrick Towles (Highlands)
2010 – Patrick Towles (Highlands)
2009 – Miles Simpson (Simon Kenton)
2008 – Miles Simpson (Simon Kenton)
2007 – Corey Farris (Boone County)