Prater Adds More To Trophy Case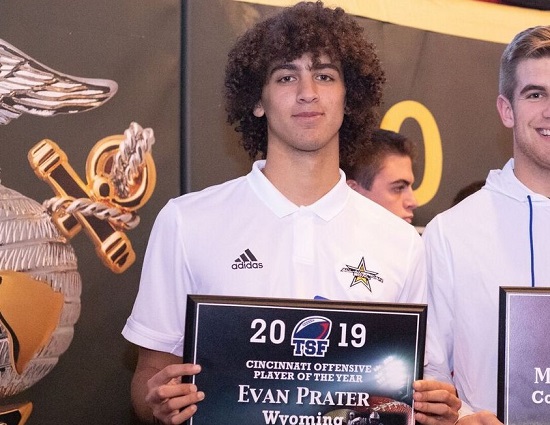 Wyoming QB Evan Prater (photo by Shelby Frieszell/TriStateFootball.com)
One last honor in the storied career of Wyoming quarterback Evan Prater, who was named the 2019 TriState Football Cincinnati Offensive Player of the Year as TSF paid tribute to finest from Cincinnati, Northern Kentucky, Dayton and Southeast Indiana area's high school gridiron at the Year in Review Show on Monday night, in front of a packed house at the Holy Grail, downtown Cincinnati.
Prater brought the 2019 Ohio Mr. Football back to the Queen City as well being named OPSWA Ohio Division IV Offensive Player of the Year, CHL Offensive Player of the Year First Team All-TSF and nomination as a TSF Cincinnati Offensive Player of the Year finalist for a second straight year.
He threw for 1,816 yards, ran for 1,509 yards, accounted for 49 touchdowns (28 rush, 21 pass) for Wyoming (13-1). The Cowboys won a second consecutive Region 16 crown and made back-to-back final four appearances for the first time in the history of the program.
Wyoming went 40-2 overall in his three years under center. They were unblemished Division IV state champions in 2018. He finished his career at Wyoming with 5,699 yards passing, 4,124 yards rushing, 72 touchdown passes and 74 scores on the ground.  The 6-foot-5,190- pound Prater will continue his playing days at the University of Cincinnati.
Other Cincinnati OPOY finalists included seniors – Cole Fisher (CHCA), Connor Kinnett (Harrison), Matthew Luebbe (Elder), JuTahn McClain (Fairfield), Cam Porter (La Salle), Miyan Williams (Winton Woods) along with juniors Liam Clifford (St. Xavier) and Corey Kiner (Roger Bacon).
TriStateFootball.com was founded in 2005 and started its postseason awards in 2007. Prater is the first Wyoming player to be named the TSF Cincinnati Offensive Player of the Year.
Cincinnati Offensive Players of the Year
2019 – Evan Prater (Wyoming)
2018 – Miyan Williams (Winton Woods)
2107 – Chase Wolf (St. Xavier)
2016 – Ra'Von Bonner (Sycamore)
2015 – David Montgomery (Mount Healthy)
2014 – Jeremy Larkin (LaSalle)
2013 – Gus Ragland (Moeller)
2012 – Greg Simpson (Sycamore)
2011 – Jalin Marshall (Middletown)
2010 – Tyler Williams (Colerain)
2009 – Dominique Brown (Winton Woods)
2008 – Mark Miller (Elder)
2007 – Elijah Story (Anderson)