Pace Keeps It In The Family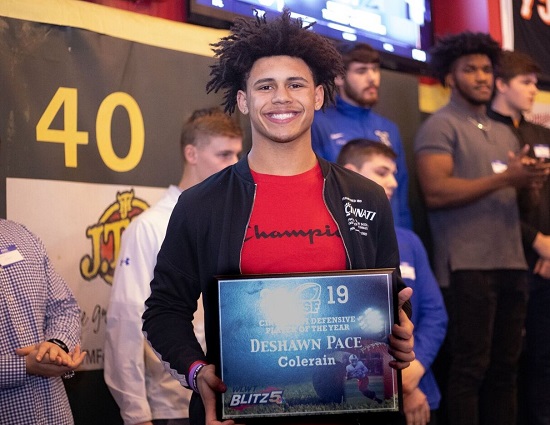 Colerain DB Deshawn Pace (photo by Shelby Frieszell/TriStateFootball.com)
Following in his brother's footsteps, Colerain defensive back Deshawn Pace was named the 2019 TriState Football Cincinnati Defensive Player of the Year as TSF paid tribute to finest from Cincinnati, Northern Kentucky, Dayton and Southeast Indiana area's high school gridiron at the Year in Review Show on Monday night, in front of a packed house at the Holy Grail, downtown Cincinnati. Pace's brother, Ivan Jr., earned the same honor a year ago.
Pace recorded 57 total tackles (42 solo), forced a fumble, had six interceptions including a 72-yard pick six versus Elder for the Colerain (11-2). On offense, Pace racked up 411 yards from scrimmage (305 rush, 106 rec) and six touchdowns on 64 touches. He garnered 2019 OPSWA Ohio Division I Co- Defensive Player of the Year, Southwest District Defensive Player of the Year, GMC Defensive Player of the Year and First Team All-TSF accolades for his efforts.
In three years as a starter at Colerain, Pace posted 174 total tackles (108 solo), forced two fumbles, recovered four fumbles, had 12 interceptions with 261 interception return yards and two pick sixes. He will continue his football career at the University of Cincinnati.
Other 2019 TSF Cincinnati Defensive Player of the Year finalists included seniors Darrion Henry (Princeton), Daved Jones (Lakota West), Camden O'Gara (Wyoming), Luke Thiemann (La Salle) along with juniors Andrew Booker (Winton Woods), Robert Brazziel Jr. (Taft) and Dontay Corleone (Colerain).
TriStateFootball.com was founded in 2005 and started its postseason awards in 2007. Pace becomes the fourth Colerain player to win the award. He and brother Ivan Jr. are the first brothers in the 13-year history of these awards to ever be named TSF Defensive Player of the Year. Here is the list of winners of this award all-time:
Cincinnati Defensive Players of the Year
2019 – Deshawn Pace (Colerain)
2018 – Ivan Pace Jr. (Colerain)
2017 – Cris Oats (Winton Woods)
2016 – Kyle Bolden (Colerain)
2015 – Kyle Bolden (Colerain)
2014 – Elijah Taylor (Moeller)
2013 – Sam Hubbard (Moeller)
2012 – Shane Jones (Moeller)
2011 – Adolphus Washington (Taft)
2010 – Steven Daniels (St. Xavier)
2009 – Marcus Rush (Moeller)
2008 – Chris Williams (Winton Woods)
2007 – Brandon Mills (Colerain)