Huddleston Honored As Tops In Kentucky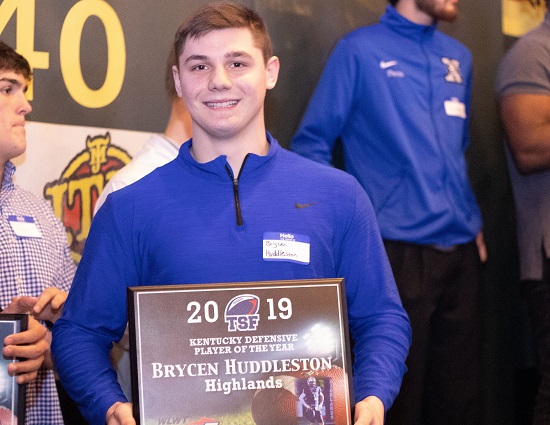 Highlands LB Brycen Huddleston (photo by Shelby Frieszell/TriStateFootball.com)
One of the best ballhawks in the entire bluegrass state, Highlands linebacker Brycen Huddleston was named 2019 TriState Football Kentucky Defensive Player of the Year as TSF paid tribute to finest from Cincinnati, Northern Kentucky, Dayton and Southeast Indiana area's high school gridiron at the Year in Review Show on Monday night, in front of a packed house at the Holy Grail, downtown Cincinnati.
Huddleston, who will continue his career at Eastern Michigan tallied more than 100 total tackles, with four sacks, 12 tackles for losses, had a fumble recovery and an interception on his way to 2019 CJ Third Team All-Kentucky, First Team All-NKY and First Team All-TSF honors. In the 13-year history of this award Huddleston becomes just the sixth player to be nominated twice as a TSF Kentucky Defensive Player of the Year finalist.
Other finalists included seniors – Kaleal Davis (Newport), Daniel Felix, (Covington Catholic), Cody Kramer (Ludlow), Andy Molique, (Covington Catholic), Vuk Sajlovic (Simon Kenton)) and junior Tayquan Calloway (Holmes).
TriStateFootball.com was founded in 2005 and started its postseason awards in 2007. Huddleston is the fourth Bluebird to be named the TSF Kentucky Defensive Player of the Year and first in a decade. The first three TSF Kentucky DPOY's were all from Highlands.
Kentucky Defensive Players of the Year
2019 – Brycen Huddleston (Highlands)
2018 – Michael Mayer (Covington Catholic)
2017 – Kam Butler (Covington Catholic)
2016 – Derrick Barnes (Holy Cross)
2015 – Marcus Watson (Cooper)
2014 – Branden Johnson (Dixie Heights)
2013 – Nate McCoy (Gallatin County)
2012 – Cameron Fogle (Conner)
2011 – Mikel Reynolds (Boone County)
2010 – Austin Baldwin (Simon Kenton)
2009 – Brandon Roller (Highlands)
2008 – Kody Rosenhagen (Highlands)
2007 – Luke Stein (Highlands)