2019 TSF Indiana Team of the Year: East Central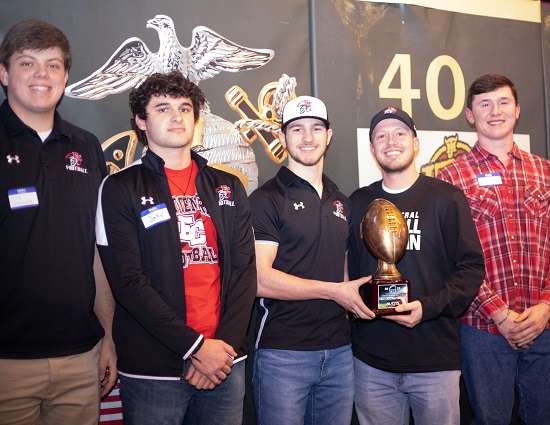 2019 TSF Indiana Team of the Year - East Central (photo by Shelby Frieszell/TriStateFootball.com)
For the fifth time in the last six years East Central was named the 2019 TriState Football Indiana Team of the Year as TSF paid tribute to finest from Cincinnati, Northern Kentucky, Dayton and Southeast Indiana area's high school gridiron at the Year in Review Show on Monday night, in front of a packed house at the Holy Grail, downtown Cincinnati.
In his first year as head coach, former alum, Jake Meiners led the Trojans to 11 straight wins before losing at Mooresville, 17-14, in sectional championship. It was the 6th straight sectional championship game appearance for East Central. It was the first time that the program had finished the regular season unbeaten since being 14-0 state champions in 1994.
The Trojans were strong across the board. The defense allowed just 9.3 points per game. They held 11 of their 12 foes to 17 points or less and recorded four shutouts. The East Central offense averaged 38.8 points per game and had a seven week stretch where they scored 40 or more points. The Trojans had an off the charts, average margin of victory of 29.5 points.
Indiana Teams of the Year
2019 – East Central
2018 – East Central
2017 – East Central
2016 – Lawrenceburg
2015 – East Central
2014 – East Central
2013 – Batesville
2012 – Lawrenceburg
2011 – East Central
2010 – Batesville