2019 TSF Kentucky Team of the Year: Covington Catholic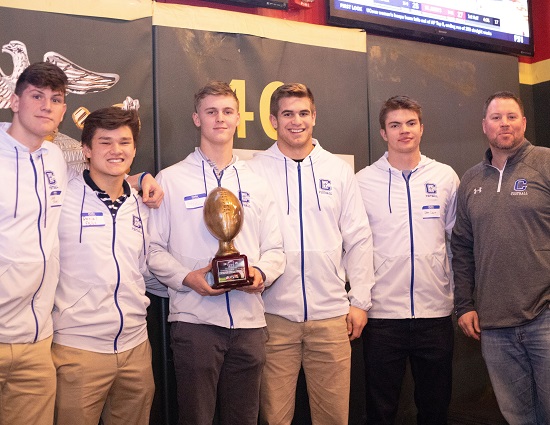 The 2019 TSF Kentucky Team of the Year - Covington Catholic Colonels (Photo by Shelby Frieszell/TriStateFootball.com)
For a third straight season Covington Catholic was named the 2019 TriState Football Kentucky Team of the Year as TSF paid tribute to finest from Cincinnati, Northern Kentucky, Dayton and Southeast Indiana area's high school gridiron at the Year in Review Show on Monday night, in front of a packed house at the Holy Grail, downtown Cincinnati.
The Colonels went 15-0 on their way to a second Kentucky Class 5A state title in the last three seasons. It was the program's 8th championship in nine tries. It was the second championship for head coach Eddie Eviston at Covington Catholic and fourth in his eight years as a front man. Eviston is 58-13 in five years at CovCath including a 44-1 mark over the last three campaigns.
It was a dominating performance for the Colonels which included a 20-point victory over Ohio Division II state champion, La Salle during the regular season. The Covington Catholic defense held 14 opponents to 9 points or less and posted six shutouts. They gave up just 6.1 points per game. The CovCath offense averaged 39.3 points per game. Their average margin of victory was 33.2 points.
Kentucky Teams of the Year
2019 – Covington Catholic
2018 – Covington Catholic
2017 – Covington Catholic
2016 – Beechwood
2015 – Simon Kenton
2014 – Highlands
2013 – Simon Kenton
2012 – Highlands
2011 – Highlands
2010 – Newport Central Catholic
2009 – Highlands
2008 – Highlands
2007 – Highlands