2020 Active Leaders: EIAC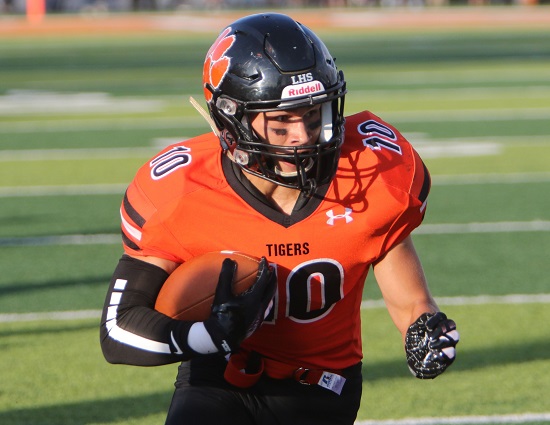 EIAC: 2020 Active Leaders
The top tier of talent in the Eastern Indiana Athletic Conference is very accomplished heading int the 2020 campaign. Six players that have ran for more than 1,300 yards in their careers are back. Six players have scored at least 20 touchdowns at the varsity level also return. School records seem to be in jeopardy.
Here is a look at the active leaders in the EIAC going into the 2020 campaign.
PASSING YARDS
4,470…Garrett Yoon, Jr, Lawrenceburg
1,814…Adam Kelly Jr., Sr, Franklin County***
1,610…Toby Brogan, Sr, Greensburg
1,436…Ryan Bond, Sr, East Central
1,060…Travis Lecher, Jr, Batesville
690……Austin Vance, So, Rushville

PASSING TOUCHDOWNS
42……..Garrett Yoon, Jr, Lawrenceburg
18……..Ryan Bond, Sr, East Central
13……..Adam Kelly Jr., Sr, Franklin County***
12……..Toby Brogan, Sr, Greensburg*
10……..Travis Lecher, Jr, Batesville

RUSHING YARDS
2,858…Adam Burd, Sr, Lawrenceburg
2,167…Jake Fike, Sr, East Central
1,935…Hunter Tschaenn, Sr, Franklin County
1,877…Toby Brogan, Sr, Greensburg*
1,698…Garrett Yoon, Jr, Lawrenceburg
1,324…Austin Pohlman, Sr, Batesville
745……Travis Lecher, Jr, Batesville
689……Jake Vance, Sr, Rushville**
679……Adam Kelly Jr., Sr, Connersville
RUSHING TOUCHDOWNS
37……..Jake Fike, Sr, East Central
36……..Adam Burd, Sr, Lawrenceburg
33……..Toby Brogan, Sr, Greensburg
24……..Garrett Yoon, Jr, Lawrenceburg
23……..Hunter Tschaenn, Sr, Franklin County
13……..Travis Lecher, Jr, Batesville
12……..Austin Pohlman, Sr, Batesville

RECEPTIONS
94……..Jake Vance, Sr, Rushville**
35……..Evan Shafer, Sr, Connersville
30……..Adam Burd, Sr, Lawrenceburg
26……..Austin Pohlman, Sr, Batesville
RECEIVING YARDS
1,489…Jake Vance, Sr, Rushville**
539……Evan Shafer, Sr, Connersville
450……Reese Willoughby, Jr, South Dearborn
410……Dakota Roth, Sr, Lawrenceburg
376……Dahya Patel, Jr, Lawrenceburg
RECEIVING TOUCHDOWNS
14……..Jake Vance, Sr, Rushville**
7..……..Dahya Patel, Jr, Lawrenceburg
5..……..Dakota Roth, Sr, Lawrenceburg

TOTAL TOUCHDOWNS
40……..Adam Burd, Sr, Lawrenceburg
38……..Jake Fike, Sr, East Central
33……..Toby Brogan, Sr, Greensburg
24……..Garrett Yoon, Jr, Lawrenceburg
24……..Hunter Tschaenn, Sr, Franklin County
20……..Jake Vance, Sr, Rushville**
13……..Travis Lecher, Jr, Batesville
13……..Austin Pohlman, Sr, Batesville
ALL-PURPOSE YARDS
3,419…Adam Burd, Sr, Lawrenceburg
2,380…Jake Fike, Sr, East Central
2,164…Hunter Tschaenn, Sr, Franklin County
2,105…Jake Vance, Sr, Rushville**
1,913…Toby Brogan, Sr, Greensburg
1,698…Garrett Yoon, Jr, Lawrenceburg
1,490…Austin Pohlman, Sr, Batesville
TOTAL TACKLES
166……Robbie Parsons, Sr, Franklin County
152……Kole Viel, Sr, East Central
133……Jeremiah Lemmel, Sr, Batesville
133……Nate Griffin, Sr, East Central
SACKS
9.5…….Robbie Parsons, Sr, Franklin County
7.0…….Austin Ashcraft, Sr, South Dearborn
7.0…….Ethan Parris, Sr, Lawrenceburg
5.0…….Kole Viel, Sr, East Central
4.0…….Nate Griffin, Sr, East Central
FUMBLE RECOVERIES
6..……..Robbie Parsons, Sr, Franklin County
3..……..Bridger Bolos, Sr, Franklin County
INTERCEPTIONS
6..……..Nate Griffin, Sr, East Central
5..……..Aiden Gilmour, Jr, Lawrenceburg
4……….Bailey Whitelock, Sr, South Dearborn
3..……..Corbin Matthews, Jr, Greensburg
3..……..Erik Perkins, Sr, East Central
3..……..Brayden Jones, Jr, Connersville
KICKING POINTS
72……..Sophie Browndyke, Jr, East Central (57/62 XPs, 5/8 FGs)
47……..Ben Bausback, Sr, Greensburg, (29/37 XPs, 6/12 FGs)*
*Does NOT include 11/08/19 game vs. Lawrenceburg
**Includes totals as a freshman at Greenfield Central
*** Includes totals as freshman, sophomore and junior at Connersville