2020 Snapshot: Waynesville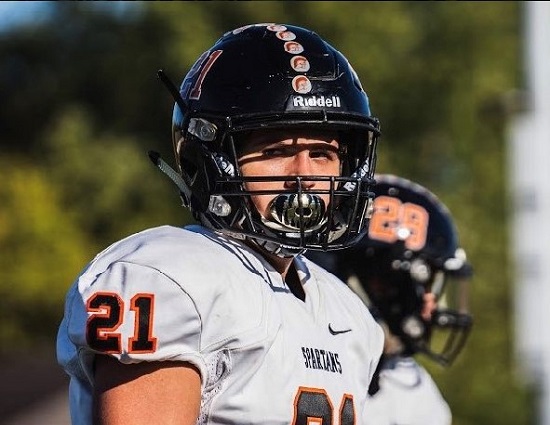 Waynesville WR/DB James Taylor
After getting sidetracked for several seasons, Waynesville found itself back in the playoffs last fall after a five-year hiatus. The Spartans had been in the postseason seven times in eight campaigns from 2007-14 then the wheels abruptly came off the train. Now the program appears to be back on-line and raring to build upon its 2019 success.
"We will be led by a strong senior class. We are looking forward to the opportunity to defend our SWBL title. The strength of this team will be our experience on the defensive side of the ball and our offensive skills positions. We will be returning eight starters on a defense," head coach Scott Jordan states.
Waynesville held opponents to 18.4 points per game last season. The Spartans only had 15 takeaways but returned four of them for touchdowns. Players who accounted for 13 of those turnovers and all of the touchdowns, return this fall.
"Our offense will be led by experience at quarterback and on the perimeter. The players are knowledgeable and comfortable in our offensive scheme. We graduated three all-league offensive linemen, two of our three leading rushers and our leading receiver. We will need players to step up and fill these voids and our returning starters to elevate their production," Jordan says.
The Spartans have good bones. Waynesville will be in the playoff hunt again. The defense will pave the way early on. When the offense finally gels this squad could be a real nuisance come November.
Division IV, Region 16
2019 RECORD: 9-2, 6-0 SWBL Buckeye
COACH: Scott Jordan (16-15 at Waynesville, three years; 16-5 overall)
HONOR ROLL
Seth Bloom, Sr, RB/DB – A versatile player that can contribute in a variety of ways for the Spartans. Bloom will be a three-year starter on the defensive side of the ball. He will be used at multiple positions offensively this season. Bloom was a OPSWA Division IV Honorable Mention All-Ohio (DB) and First Team All-Southwest District (DB) selection in 2019.
Jake Amburgy, Sr, QB – An impressive first season as a starter saw Amburgy help lead Waynesville to its first playoff appearance in five years. He amassed 1,581 yards of total offense (975 pass, 605 rush) and accounted for 19 touchdowns (10 pass, nine rush) on his way to OPSWA Division IV Second Team All-Southwest District (QB) honors.
Luke Osborn, Sr, OL/LB – A four-year starter who is an integral part of the defense as a linebacker, on the offensive line and as a part-time running back. Osborn tallied more than 100 total tackles, had three-and-a-half sacks, a fumble recovery and ran for five touchdowns on his way to OPSWA Division IV Second Team All-Southwest District (LB) accolades as a junior.
Zane Blaisdell, Sr, WR/DB – Will team up with Bloom, Johnson and Dotson to give the Spartans one of the most formidable secondaries in Region 16. Blaisdell earned Second Team All-SWBL Buckeye (DB) honors in 2019. He will contribute this season as a return man, running back and wide receiver.
Luke Zebell, Sr, OL/DE – In his first season as a starter, Zebell was named Second Team All-SWBL Buckeye (DL) in 2019. This fall Zebell will make the transition to the offensive line (from tight end) and continue his role as a defensive end.
Caleb Lamb, Sr, WR/LB – Primarily a defensive player as a junior, the Spartans will look to use Lamb offensively this season. Lamb was an Honorable Mention All-SWBL Buckeye performer in 2019, his first season as a starter.
OTHER RETURNEES
Dan Denier, Sr, OL – A three-year starter, Denier will be looked upon to lead the offensive line.
Paul Dotson, Sr, WR/DB – Came up big on both sides of the ball as a junior. Dotson caught 26 balls for 256 yards with a team high five touchdown receptions. On defense, he had a Spartans best five interceptions, including two pick sixes.
Tanner Johnson, Sr, WR/DB – Will be used on both sides of the ball this season after a solid varsity debut in the defensive backfield in 2019. He had a 30-yard pick six versus Greenview in his second start.
Brayden Dietz, Sr, RB/LB – A three-year starter at linebacker for the Spartans.  Dietz will play a larger role out of the backfield as a senior. He ran for 210 yards and a pair of touchdowns, a year ago.

NEWCOMERS
Juniors OL Javen Wheaton, TE/LB Aidan Bailey, OL Connor Nichols, RB/DB Clellon Tamme, WR/DB James Taylor, WR/DB Jordan Davis and sophomore QB Blaise Sizer have a chance to become starters. Sizer threw his first varsity touchdown pass as a freshman against Dixie. It was Davis' lone reception of the season.
PLAYOFF HISTORY
(10 appearances, 2-10) – 2019, 2014, 2013, 2011, 2010, 2009, 2008, 2007, 1999, 1981
2020 SCHEDULE
Fri – 08/28/20 – BEXLEY – 7:00 PM
Fri – 09/04/20 – at Greenview – 7:00 PM
Fri – 09/11/20 – BLANCHESTER – 7:00 PM
Fri – 09/18/20 – at Bellbrook – 7:00 PM
Fri – 09/25/20 – PREBLE SHAWNEE – 7:00 PM
Fri – 10/02/20 – at Milton-Union – 7:00 PM
Fri – 10/09/20 – at Dixie – 7:00 PM
Fri – 10/16/20 – CARLISLE – 7:00 PM
Fri – 10/23/20 – NORTHRIDGE – 7:00 PM
Fri – 10/30/20 – at Madison Senior – 7:00 PM