2020 Snapshot: Rushville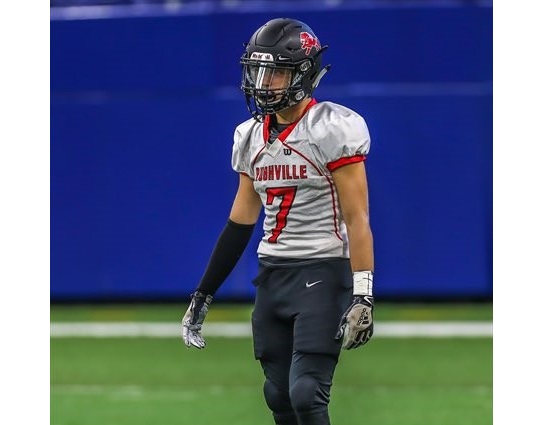 Rushville WR Jake Vance (photo from Twitter: @JakeVance84)
The youth movement hampered progress for Rushville last season. The Lions played like naïve cubs and the growing pains of being young were apparent. Having been through the jungle these cats are ready to pounce on their opponents.
"In 2019, inexperience on offense led to far too many drive-killing penalties and mistakes. Our offense returns a lot of experience and production from a unit that was very successful at times last year," head coach Dan Rector states.
There is plenty to like on this side of the ball. Rector goes on. "The offensive line is big, strong and experienced. It is truly one of the strongest units on the team. This year's offense should be much more efficient than last year."
The Rushville defense is also expected to be much improved after struggling last fall. The Lions gave up 34 points or more on nine occasions and more than 40 six times. "This year's team must be more physical and more sound on assignments and responsibilities," Rector says.
Rushville will be exciting and highly entertaining on offense. In an EIAC, that is loaded with offensively explosive teams, the Lions defense must make stops. Keeping the defense off the field as much as possible is key for success.
Getting into shootouts on the scoreboard will not favor Rushville. The Lions best defense might just be be an offense that can sustain long drives and control the clock.
Class 3A, Sectional 31
2018 RECORD: 1-9, 0-3 EIAC 3A
COACH: Dan Rector (6-14 at Rushville, two years; 6-4 overall)
HONOR ROLL
Jake Vance, Sr, WR/CB – One of the state's top returning receivers. Vance amassed 1,239 all-purpose yards (669 rush, 643 rec, 527 ret), had 41 receptions and found the end zone 14 times (eight rec, four rush, two KR) as a junior. He has 94 receptions for 1,489 yards and 14 touchdown catches, in his career.
OTHER RETURNEES
Josiah Hay, Sr, RB/ILB – Covers lots of ground as an inside linebacker. On offense, Hay ran for 514 yards and two touchdowns as a junior. He has 62 total tackles in a Lions uniform.
Austin Vance, So, QB – Made big strides as a passer during his freshman season at quarterback.  With a year under his belt expect the 6-foot-3, 186-pound Vance to improve on his 690 yards passing and 13 total touchdowns (eight pass, five rush) in 2019.
Adam Sizemore, Jr, LB – Slid into a starting role effortlessly as a sophomore. Sizemore finished the year with 48 total tackles.
Joe Sheehan, Sr, OL – The 6-foot-4, 245-pound Sheehan is back for another year as a starter on the o-line.
Colton Griffith, Sr, WR/DB – Will play a bigger role on both sides of the ball in 2020.
RJ Shadley, Sr, DB – Will be called upon to be a leader in the secondary. Shadley was in on 23 total tackles and blocked a kick in 2019.
John Alexander, Jr, OL – Should only get better after starting as a sophomore.
Nash Paddack, Jr, DL – A strong and athletic presence in the middle of the d-line. The 6-foot-4, 220-pound, Paddack had 30 total tackles, two sacks and recorded a safety as a sophomore.
Anthony Meo, Jr, RB/ILB – Showed some real promises as a sophomore. Meo ran for 194 yards and two scores.
Devin Richardson, Jr, OL/DL – Another "big 'un" up front. The 6-foot-1, 270-pound Richardson is part of an o-line that could be pretty special over the next couple of seasons.
Eli McGrath, So, OL – There is a tremendous upside to the 6-foot-4, 330-pound, McGrath. He is back for his second season as a starter. The best days are still ahead for this sophomore.
NEWCOMERS
Rector is excited about a pair of sophomores DB Jack Barnes and DE Ashton Reece. He thinks they can be contributors right out of the gate.
PLAYOFF HISTORY (16-36)
Sectional Champion (one) – 1983.
2020 SCHEDULE
Fri – 08/21/20 – MILAN – 7:00 PM
Fri – 08/28/20 – at New Castle – 7:30 PM
Fri – 09/04/20 – FRANKLIN COUNTY – 7:00 PM
Fri – 09/11/20 – BATESVILLE– 7:00 PM
Fri – 09/18/20 – at Connersville – 7:00 PM
Fri – 09/25/20 – at North Decatur – 7:00 PM
Fri – 10/02/20 – at Lawrenceburg – 7:00 PM
Fri – 10/09/20 – SOUTH DEARBORN – 7:00 PM
Fri – 10/16/20 – GREENSBURG – 7:00 PM
Fri – 10/23/20 – TBD: IHSAA Sectional 31 Playoffs