2020 Snapshot: Little Miami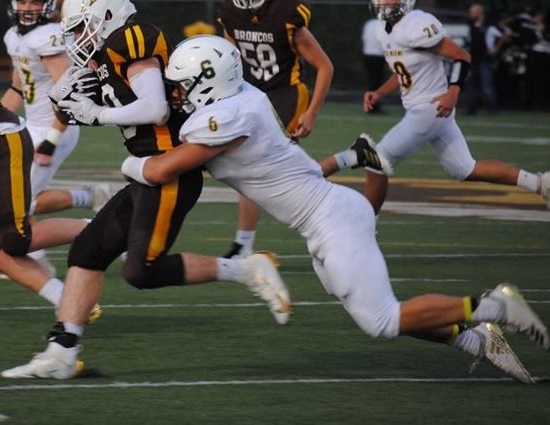 Little Miami LB Sean Buschur (photo courtesy of Facebook.com: GoWBBroncos)
Life is good in Morrow. Little Miami is entrenched in its second most prosperous run in school history. The Panthers have won 24 games over the past three seasons. The program racked up 34 victories from 1985-1988. This group of seniors now chases greatness.
Little Miami moves from the SWOC to the ECC. Life won't get any easier in a league that now includes Winton Woods and five larger Division I schools. In order to sustain the recent success, the Panthers will have to take their play to the next level.

"We will be bringing back a lot of the skills positions players on offense. Our defense will be led by our front seven as many of them are returning," head coach Caleb Jones states. "We need to replace a few key positions on the offensive line, at quarterback and in the secondary."
Just a few years back, the Panthers would have been fretting about having to fill so many positions. Now Little Miami has depth as players are biding their time on the sidelines before they get their shot on the field. Reloading has never been a word synonymous with this program but the tide has turned for the best. This squad will be in the hunt for a third straight trip to the playoffs.
Division II Region 8
2019 RECORD: 8-3, 4-2 SWOC
COACH: Caleb Jones (8-3 at Little Miami, one year; 8-3 overall)

HONOR ROLL
Reis Stocksdale, Sr, WR – A four-year starter, Stocksdale is coming off and outstanding junior campaign. He amassed 1,187 all-purpose yards, had 38 receptions for 786 yards and found the end zone 13 times (11 rec). Stocksdale was named OPSWA Division II Second Team All-Southwest District for his work. He has 20 touchdown catches (six away from the Little Miami's all-time record) on 66 career receptions.
Sean Buschur, Sr, LB – Has been a tackling machine ever since his freshman year. Buschur tallied 142 total tackles (124 solo) and had a sack in 2019. He was named OPSWA Division II Honorable Mention All-Southwest District for the effort.
Nathan Gordon, Sr, OL/DL – The leader of the defensive line. Gordon recorded 66 total tackles and seven sacks on his way to Second Team All-SWOC accolades as a junior.
Collin Streuer, Sr, OL/DL – Blossomed last fall on the defensive line. Streuer had 36 total tackles on his way to being a Second Team All-SWOC selection.
Aidan Jones, Jr, QB/DB – An Honorable Mention All-SWOC (DB) selection as a sophomore, Jones registered 108 total tackles, recovered a fumble and snared an interception. This summer, he will get a shot at winning the starting quarterback position.
OTHER RETURNEES
Trey Williams, Sr, WR/DB – A versatile athlete who fills som many voids for Little Miami. Williams had 12 receptions for 243 yards and accounted for four touchdowns (two pass, one rush, one rec) in 2019.
Lucas Swierk, Sr, WR/DB – Handled place kicking duties for the Panthers, a year ago. Swierk connected on 30/37 extra points and 2/3 field goals for 36 kicking points. He will see more time at receiver as a senior.
Ty Williams, Sr, WR/DB – A huge target at 6-foot-6, Williams had 15 receptions for 252 yards and a pair of touchdowns, as a junior. He also averaged 37.4 yards on 27 punts.
Riley Pringle, Sr, RB – Will be one of the Panthers featured runners. Pringle ran for 294 yards and two touchdowns, a year ago.
Joey Beck, Sr, LB – In his first season as a starter, Beck was in on 53 total tackles with three sacks and a fumble recovery, in 2019.
Trey Miller, Jr, LB – Will be part of the linebacker rotation after playing well, as a sophomore.
KC Duncan, Sr, LB – Teams with Miller, Beck and Buschur to make a formidable linebacking nucleus. Duncan has 134 total tackles, three sacks and an interception, at the varsity level.
Brady Williams, Sr, DB – A returning starter in the secondary, Williams has 42 total tackles in his career.
Brayden King, Jr, OL/DL – The Panthers will be looking for leadership out of King on the o-line.
NEWCOMERS
Seniors OL/DL Jared Bentley, OL/DL Tim Blair, DL Brooks Smith, juniors QB/LB Colton Blankenship, RB Dalton Gibson, LB/DB Michael Cornett, WR/DB Nick Greenwell, OL Aaron Ealy, WR/DB Ben Gast, WR/DB Sweetest, Olatunji, RB/DB Ashton Middlekamp, sophomores WR/DB Brayden Bischoff, RB/LB Nathan Rebman, OL Aiden Whittington, OL Sam Dooley and OL Jacob Poulin add depth and competition in the trenches and at the skills positions.
PLAYOFF HISTORY
(three appearances, 2-3) – 2019, 2018, 1992. Panthers went 26 years between their first and second playoff appearances.
2020 SCHEDULE
Fri – 08/28/20 – GOSHEN – 7:00 PM
Fri – 09/04/20 – at Talawanda – 7:00 PM
Fri – 09/11/20 – ANDERSON – 7:00 PM
Fri – 09/18/20 – at Walnut Hills – 7:00 PM
Fri – 09/25/20 – TURPIN – 7:00 PM
Fri – 10/02/20 – at Loveland – 7:00 PM
Fri – 10/09/20 – MILFORD – 7:00 PM
Fri – 10/16/20 – at Lebanon – 7:00 PM
Fri – 10/23/20 – WEST CLERMONT – 7:00 PM
Fri – 10/30/20 – at Kings – 7:00 PM