2020 Snapshot: Rowan County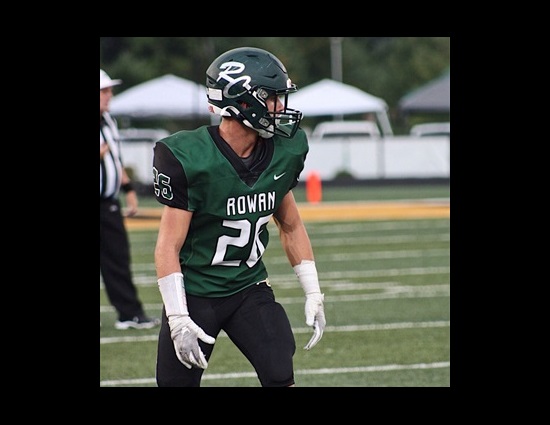 Rowan County RB Cole Wallace (photo from Hudl.com)
Without much fanfare Rowan County managed to have its first winning campaign since 2011, last fall. Hoping to keep the ball rolling, the next feat for the Vikings to conquer is coming up victorious in the playoffs. The program's last postseason win was in 2010.
Rowan County will be led by a veteran offensive line and rock-solid running back core. The Vikings averaged 283.5 yards rushing per game, last season.
There are some questions for Rowan County. "We lost a lot on the defensive side of the ball. We will be young over there," head coach Kelly Ford states. The defense did not allow more than 12 points in any of the Vikings six wins in 2019.
Coach Ford has the program going in the right direction. He will challenge this team to not rest on their past laurels. We expect the Vikings to rise up and answer his call.

Class 4A, District 6
2019 RECORD: 6-5, 2-2 Class 4A, District 6
COACH:  Kelly Ford (14-18 at Rowan County, three years; 14-18 overall)
TOP RETURNEES
Cole Wallace, Sr, RB – The focal point of the Vikings Wing-T offense. Wallace ran for 1,495 yards and 21 touchdowns as a junior. He also had 52 total tackles, two sacks, 10 tackles for losses and a 40-yard scoop and score. Wallace has 3,305 yards and 41 touchdowns rushing in his career.
Brien Hill, Sr, DB – The veteran presence in the secondary. Hill has six interceptions at the varsity level.
Brad Kelsey, Sr, OL – Heads up an offensive line that paved the way to the Vikings running for 3,119 yards and 34 touchdowns in 2019.
Austin Fannin, Sr, QB – Moves to quarterback after playing defense as a junior.
Arian Brown, Sr, OL/LB – Will provide much needed leadership on both sides of the ball.
NEWCOMERS
Coach Ford and his staff are expecting senior RB/WR Andrew Miller, juniors RB/LB Rocky Miller, RB Ashton Nicholas and sophomore LB Zach Watson to immediately step in and fill voids.
2020 SCHEDULE
Fri – 08/21/20 – MORGAN COUNTY – 7:30 PM
Fri – 08/28/20 – BATH COUNTY – 7:30 PM
Fri – 09/04/20 – at Raceland – 7:30 PM
Fri – 09/11/20 – Fleming County – 7:30 PM
Fri – 09/18/20 – LEWIS COUNTY – 7:30 PM
Fri – 09/25/20 – SCOTT – 7:30 PM
Fri – 10/02/20 – at Holmes – 7:30 PM
Fri – 10/09/20 – at Harrison County – 7:30 PM
Fri – 10/16/20 – BYE – 7:30 PM
Fri – 10/23/20 – BOYD COUNTY – 7:30 PM
Fri – 10/30/20 – at Montgomery County – 7:30 PM