2020 Snapshot: Monroe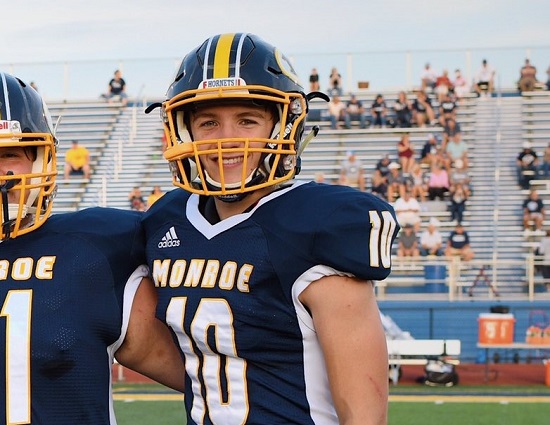 Monroe QB Collin Deaton (photo from Twitter: @_MonroeFootball)
The record may not have reflected it, but Monroe made great strides under first year head coach Bob Mullins, last fall. This season the goals are loftier for the Hornets as they look for their first winning season since 2015.
"We are at our best when are running the football, controlling the clock, stopping the run and playing physical defense," Mullins states.
The Monroe defense needs to become more consistent. The Hornets gave up 33.3 points per contests in 2019. Seven times they gave up 30 points or more.
The offense came on strong late last season. The Hornets found the end zone at least three times six times in their final seven outings. They had five touchdown runs of 67-yards or more and eight carries of more than 44 yards, in that span.
Monroe is headed in the right direction. They must figure out how to win and compete with playoff-caliber teams in Region 12. These Hornets will be better but by how much is for them to prove. Getting to the postseason is going to take a monstrous effort in a region rich with quality teams.
Division III, Region 12
2019 RECORD: 2-8, 2-4 SWBL Southwestern
COACH: Bob Mullins (2-8 at Monroe, one year; 2-8 overall)
HONOR ROLL
Chandler Holler, Sr, OL/DL – One of the top two-way linemen in the SWBL. Holler was named OPSWA Division III Second Team All-Southwest District (OL) as a junior. He also had 53 total tackles, a sack and forced two fumbles for the Hornets defense.
Collin Deaton, Sr, QB – The general of the Monroe triple option attack on offense. Deaton ran for 745 yards, threw for 247 yards and accounted for 13 touchdowns (11 rush, two pass) in 2019. He was named Honorable Mention All-SWBL Southwestern for his work.
OTHER RETURNEES
CJ Miles, Sr, RB/LB – The leader of the linebackers. Miles will also see time in the backfield this fall.
Blake Keeton, Sr, RB/LB – Will play similar roles as Miles, on both sides of the ball.
Ryan Miltenberger, Sr, WR – Won't see many touches in the offense but could still be a red zone threat in the passing game.
Nick Voutsas, Sr, DB – The leader of the secondary. Voutsas has five career takeaways (three FRs, two INTs).
Alex Pitsch, Jr, RB/DB – Could really flourish now that opportunities have opened up for him at running back. Pitsch ran for 126 yards and two touchdowns as a sophomore.
Zach Hagedorn, Jr, OL – Has all-league potential and a bright future. Hagedorn had one and-a-half sacks a year ago.

NEWCOMERS
The Monroe coaching staff like what it sees in the 6-foot-5, 280-pound senior OL Logan Livers, junior transfer RB/DB Ishmael Moss and sophomore TE/DL Conner Loper. Moss had six tackles in three games for Middletown in 2019.
PLAYOFF HISTORY
(nine appearances, 11-9) – 2014, 2009, 2007 (Regional Champion), 2006, 2005 (Regional Champion), 1994, 1993, 1986, 1983 (Regional Champion)
2020 SCHEDULE
Fri – 08/28/20 – at Talawanda – 7:00 PM
Fri – 09/04/20 – ROSS – 7:00 PM
Fri – 09/11/20 – CARLISLE – 7:00 PM
Fri – 09/18/20 – at Franklin – 7:00 PM
Fri – 09/25/20 – at Valley View – 7:00 PM
Fri – 10/02/20 – EATON – 7:00 PM
Fri – 10/09/20 – BROOKVILLE – 7:00 PM
Fri – 10/16/20 – at Oakwood – 7:00 PM
Fri – 10/23/20 – at Madison Senior – 7:00 PM
Fri – 10/30/20 – BELLBROOK – 7:00 PM
NON-CONFERENCE WOES
Monroe has lost 14 consecutive games against non-conference teams (outside of the SWBL Buckeye Division) with an average margin of defeat of 25.2 points. The Hornets beat Edgewood, 42-20, in the 2014 season opener for their last non-conference victory.