Colerain's streak comes to end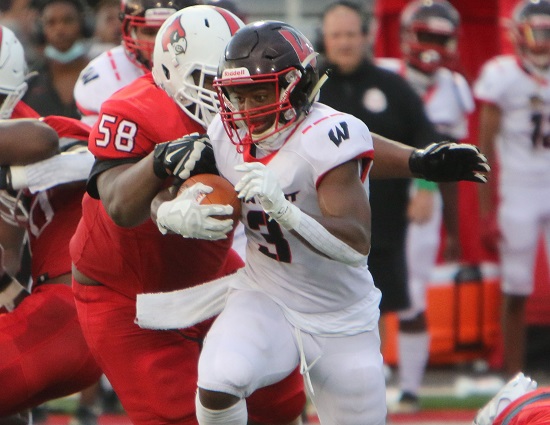 Lakota West RB Jyaire Brown (photo by Dan Beineke/TriStateFootball.com)
CINCINNATI, Ohio – Tom Bolden returned to his old stomping ground for the first time on Friday night as the Lakota West Firebirds opened up their 2020 campaign by making a trip to Colerain to take on the Cardinals.
Colerain entered the game riding a 83-game winning streak inside of GMC play. Tom Bolden never had lost a conference game as a head coach at Cardinal Stadium. Something had to give.
For the game's first nearly three quarters little did give though. Both defenses posed big problems for their opponent. The first quarter featured five drives and came and went without a single first down.
Lakota West threatened at the end of the first half, moving the ball deep into Colerain territory. However, they couldn't put points on the board and the game went to half scoreless.
Finally, the tide started to turn when an interception and long return by Cardinals' defensive back Sean Williams was nullified due to a roughing the passer penalty. Instead of turning the ball over, the Firebirds wound up with the ball inside the 5-yard line.
Lakota West settled for a 21-yard field goal, but led 3-0 entering the final quarter. The knockout punch came a few minutes later as Aden Miller gave the Firebirds a 10-0 lead with a 19-yard run with 9:05 left in the game.
The Cardinals, who have won 20 straight GMC titles, last lost a conference game on October 3, 2008 versus Middletown.
SCORING BY QUARTERS
Lakota West 0-0-3-7-10
Colerain 0-0-0-0-0
SCORING PLAYS
L: Matthew Howard 21-yard FG
L: Aden Miller 19-yard run (Howard kick)
RECORDS: Lakota West (1-0, 1-0 GMC); Colerain (0-1, 0-1 GMC
UP NEXT: Lakota West vs. Hamilton; Colerain at Oak Hills.
*Stay updated on high school football updates by following @TSFootball on Twitter.