Trojans turn to wildcat, take down Tigers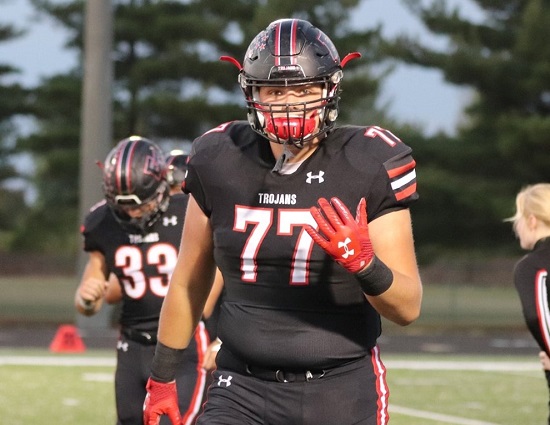 East Central OT Luke Collinsworth (photo by Linda Lyness Maxwell)
ST. LEON, Indiana – A sloppy, choppy first half of the 2020 opener still found visiting Lawrenceburg tied 7-7 with East Central at halftime. The Tigers were in position to beat the Trojans for the first time since 1992. After a quick intermission the untidy play caught up with Lawrenceburg and East Central scored 27 unanswered third quarter points to put the contest away.
The Tigers ran almost twice as many plays as the Trojans (70-37) and outgained them by 15 yards (304-289) on the night. Four turnovers and 11 penalties (many of them untimely) were too much to overcome.
After the break, East Central turned to the Wildcat offense as it sputtered trying to get the passing attack going. Led by AJ Messmore things opened up for the Trojans. The senior had a long run down to the Lawrenceburg two-yard line on the squads opening drive of the second half. One play later, junior Hunter Sohns punched it in for paydirt and the home team never trailed again.
Big plays took over from there. On Lawrenceburg's first possession of the third quarter, Trojans defensive back, Samual Ringer, made an athletic play on an interception and returned it 35 yards for a touchdown. Later that period, senior Kole Viel had a 52-yard scamper for a score. Messmore then connected with Derek Richter on a 42-yard flea flicker pass to round out the scoring for East Central.
Messmore threw that touchdown pass on his only attempt, found the end zone on his only reception and ran for 67 yards on seven carries to round out his night. Viel had four totes for 63 yards and found the end zone for the first time in his career.
Junior Garrett Yoon, the 2019 TriState Football Indiana Offensive Player of the Year, paced Lawrenceburg with 82 yards rushing and went 16-32 for 157 yards (one interception). Senior Adam Burd chipped in with 93 yards from scrimmage (56 rec, 37 rush) and had six receptions.
POSTGAME INTERVIEWS
Jake Meiners, head coach, East Central
Luke Collinsworth, East Central
AJ Messmore, East Central
SCORING BY QUARTERS
Lawrenceburg 7-0-0-0-7
East Central 7-0-27-0-34

SCORING PLAYS
E: AJ Messmore 18 pass from Ryan Bond (Sophie Browndyke kick)
L: Garrett Yoon 19 run (Joey Hibbard kick)
E: Hunter Sohns 2 run (Browndyke kick)
E: Samual Ringer 35 interception return (Browndyke kick)
E: Kole Viel 52 run (Browndyke kick)
E: Derek Richter 42 pass from Messmore (kick failed))
RECORDS: Lawrenceburg (0-1); East Central (1-0)
UP NEXT: Lawrenceburg hosts Mount Healthy (0-0); East Central at Bishop Chatard (1-0)