2020 Snapshot: Franklin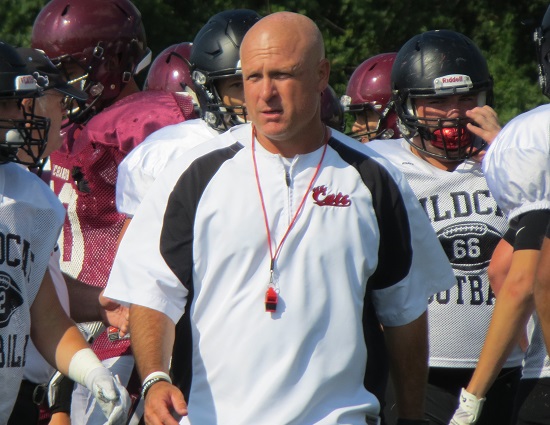 Franklin head coach Brad Childers (photo by Greg Shoemaker/TriStateFootball.com)
Over the past decade Franklin has established itself as a force in football. Half of the programs six playoff appearances have come the last nine years. The Wildcats should make that seven in 10 seasons this fall.
Despite the success, there is another step to be taken. Winning in the postseason has been elusive. The Wildcats have just two playoff victories in the 21st century. This gives the 2020 squad a lofty goal to shoot for.
"We have 19 seniors and they look to leave a mark on the Franklin tradition. They have done a great job leading this summer," head coach Brad Childers states. "The team is working really hard. We had two weeks of two-a-days and the kids committed to getting better."
Franklin graduated a ton of talent but the cupboard is not bare. "We are starting nine seniors on defense this year. We are looking forward to watching our defense compete at a high level," Childers laments. Offensively, "we have a really good front and I feel we can line up and run the football well."
It is next man up for the Wildcats. This team will have many few faces starting but it should not hinder the progress of the foundation that was laid before them. At Franklin, winning is expected and year after year the players know how to get that done.
Division III, Region 12
2019 RECORD: 9-2, 6-0 SWBL Southwestern
COACH: Brad Childers (44-20 at Franklin, six years; 44-20 overall)
HONOR ROLL
Izac Proctor, Sr, DE – One of the top pass rushers in Region 12. Proctor registered six sacks and had a 65-yard pick six as a junior. His efforts earned him OPSWA Second Team All-Southwest District honors.

Gunner Lakins, Sr, LB – Became a menace in opposing backfields in 2019. Lakins recorded four sacks on his way to Second Team All-SWBL Southwestern accolades.
Cajun Allen, Sr, C/DL – The leader in the trenches, where he will win most of his battles. Allen was named Honorable Mention All-SWBL Southwestern as a junior.
OTHER RETURNEES
Pierce Baurerle, Jr, RB/LB – A returning starter at linebacker, Baurerle will see more carries at running back. He had three sacks and an interception a year ago.
Cyre Williams, Sr, RB/slot/DB – In the spotlight as a senior Williams could rack up some big numbers. He will be a difference maker in all three phases of the game. Williams has 688 all-purpose yards at the varsity level.
Tyler Woods, Sr, slot/DB – Will get more touches on offense and a chance to use his speed in open spaces. Wood had 10 receptions for 153 yards as a junior.
NEWCOMERS
Drew Isaacs, Jr, QB – Will compete with Gibson for the starting job at quarterback. Isaacs took a handful of snaps against Monroe and Eaton last season.
Tressel Gibson, So, QB /DB – Will vie for the starting job under center. Expect Gibson to be a factor in the secondary if he doesn't win the job at quarterback.
Ian Salmons, Sr, DB – Will provide senior leadership in a young, untested defensive backfield.
PLAYOFF HISTORY
(12 appearances, 5-12) – 2019, 2017, 2016, 2013, 2012,2011, 2008, 1993, 1989, 1988, 1987, 1985
2020 SCHEDULE
Fri – 08/28/20 – MONROE – 7:00 PM
Th – 09/03/20 – at Bellbrook – 7:00 PM
Fri – 09/11/20 – PREBLE SHAWNEE – 7:00 PM
Fri – 09/18/20 – VALLEY VIEW – 7:00 PM
Fri – 09/25/20 – at Eaton– 7:00 PM
Fri – 10/02/20 – at Brookville – 7:00 PM
*10/09-11/20 – OHSAA Playoffs
COACH ON CORONA
"Other than lifting in the spring, and we have so many kids that play baseball, that starting June 1st allowed us to make up some lost time.  Once we have the opportunity to scrimmage, and get a good evaluation, I will have a better feel as to where we are as a football team."