VOTE: Player of the Week – Week 1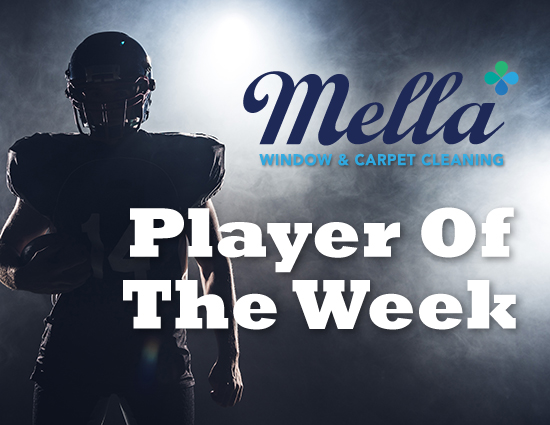 TriStateFootball.com is proud to present the Mella Window & Carpet Cleaning Player of the Week for the 2020 regular season. Players will be nominated from the Cincinnati, Northern Kentucky and Eastern Indiana areas throughout the season.
Each week a group of nominees will be selected from a large list of some of the area's top performances and will be included in an online voting poll to determine a winner. The poll will launch weekly on Sundays. Voters can vote once per hour, per IP address (we track it on back end so cheating will result in votes being voided) through Wednesday at 12:00 PM Eastern weekly.
Once a player has won, they were ineligible to be nominated a second time. Players can only be nominated three times during the course of the season.
All of the season winners will be recognized and receive a plaque at the TriStateFootball.com Year in Review Show in February of 2021 (more details announced once season concludes).
+++
Take advantage of this internet special at Mella Window & Carpet Cleaning:

Whole house window cleaning $179 – COMPLETE DETAILS
+++
Here are this week's nominations…
Landon Amann, Clermont Northeastern, Sr, QB – Was 14-21 for 244 yards and three touchdowns as the Rockets blasted Summit Country Day, 32-0.
Deondre Bothast-Revalee, Talawanda, Jr, RB/LB – Carried the ball 16 times for 116 yards and had an interception as the Braves beat Carroll, 26-6.
Thomas Boyd, Princeton, Sr, RB – Ran for 122 yards on 17 carries with two huge fourth-quarter touchdowns in the Vikings comeback win over Hamilton, 33-28.
Derrick Crutchfield, CCPA, Sr, WR – Had two fourth-quarter touchdown catches and four receptions for 132 yards in his first varsity game as the Lion beat St. Bernard.
Zach Branam, La Salle, Sr, QB – Amassed 343 yards of total offense (166 pass, 177 rush), accounted for five touchdowns (three passing, two rushing), kicked a 28-yard field goal and scored the winning two-point conversion in the Lancers' thrilling 53-52 double-overtime victory at Elder.
Danny Dunlop, Moeller, Sr, WR – Became the first Crusader to have a 100 yards receiving in a game since 2018 with two catches for 115 yards and a touchdown; also carried the ball nine times for 87 yards as Big Moe took care of Bishop Hartley, 34-17.
Kevin English, Norwood, Sr, WR – Had seven receptions for 178 yards and three touchdowns as the Indians snapped a 10-game losing streak by knocking off Lockland, 32-26.
Carter Frank, Clinton-Massie, Jr, WR/DB – Ran for 98 yards on 12 carries, had two receptions for 61 yards, recorded three solo tackles and had three rushing touchdowns as the Falcons soared past Alter, 42-32.
Andrew Glassmeyer, Mariemont, Sr, QB – Had a career high 304 yards passing with three touchdowns in the Warriors' 30-19 victory over Taylor.
William Ingle, Sycamore, Jr, RB – Ran for 199 yards, had 299 all-purpose yards with three rushing touchdowns, including the game winner late in the fourth quarter as the Aviators sneaked past Lakota East, 34-31.
Jackson Kuhn, Anderson, Sr, QB – Threw for 368 yards and accounted for five touchdowns (three pass, two rush) in the Redskins wild 50-40 win against Little Miami.
Travis Lecher, Batesville, Jr, QB – Racked up 367 yards of total offense (216 pass, 151 rush) and accounted for six touchdowns (four rush, two pass) as the Bulldogs beat Milan, 42-34.
Brayden Sipple, Blanchester, Sr, QB – After a year hiatus, Sipple threw for 333 yards and four touchdowns in his return to the gridiron, as the Wildcats upset Goshen, 41-27.
Ty Thornton, Indian Hill, Jr, QB – Went 7-9 for 142 yards, ran for 33 yards and accounted for four touchdowns (three pass, one rush) as the Braves blanked Deer Park, 42-0.
Landyn Vidourek, Badin, Jr, QB – Completed 13/14 passes for 238 yards and four touchdowns in the Rams' romp over rival Ross, 41-7.
*Nominate players weekly by emailing us at staff@tristatefootball.com by 9AM Sunday mornings.