VOTE: Player of the Week – Week 3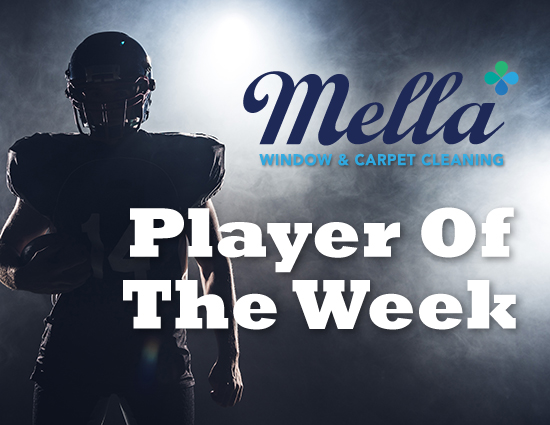 TriStateFootball.com is proud to present the Mella Window & Carpet Cleaning Player of the Week for the 2020 regular season. Players will be nominated from the Cincinnati, Northern Kentucky and Eastern Indiana areas throughout the season.
Each week a group of nominees will be selected from a large list of some of the area's top performances and will be included in an online voting poll to determine a winner. The poll will launch weekly on Sundays. Voters can vote once per hour, per IP address (we track it on back end so cheating will result in votes being voided) through Wednesday at 12:00 PM Eastern weekly.
Once a player has won, they were ineligible to be nominated a second time. Players can only be nominated three times during the course of the season.
All of the season winners will be recognized and receive a plaque at the TriStateFootball.com Year in Review Show in February of 2021 (more details announced once season concludes).
+++
Take advantage of this internet special at Mella Window & Carpet Cleaning:

Whole house window cleaning $179 – COMPLETE DETAILS
+++
Here are this week's nominations…
Preston Agee, Campbell County, Jr, QB – Found the end zone twice on nine carries for 38 yards, threw for 32 yards and had an interception as the Camels won their opener 21-8 over Cooper.
Mitch Bolden, Lakota West, So, QB – Had career highs of 176 yards and four touchdowns passing as the Firebirds improved to 3-0 after taking out Sycamore, 33-0.
Isaiah Bowman, New Richmond, Sr, WR/DB – Intercepted three balls, including a pick six, recovered a fumble, had seven total tackles and caught five passes for 69 yards as the Lions roared past Sidney, 21-7.
Jaheim Cherry, Northwest, Sr, QB – Went 12-16 for 240 yards passing, had 115 yards rushing and accounted for three touchdowns (two passing, one rushing) in the Knights' 26-14 victory over Edgewood.
Brayden Fraasman, Ross, Jr, RB – Ran for 146 yards on five totes with touchdown runs of 31 and 71 yards as the Rams blanked Talawanda, 35-0.
Jose Gonzalez, Taylor, Sr, RB – Ran for 163 yards and three touchdowns as the Yellow Jackets picked up their first victory of the season, beating Reading 21-14.
Corey Kiner, Roger Bacon, Sr, RB – Averaged 21.4 yards on 17 carries for 363 yards and seven touchdowns (six in the first half) as the Spartans routed Norwood on a record-setting night, 82-28.
Dom Little, Harrison, Sr, LB – Snared three interceptions and was in on six total tackles as the Wildcats beat Mount Healthy, 31-21 for their first win of the year.
Chris Long, Bethel-Tate, Sr, QB/DB – Threw for 287 yards with four touchdown passes, had two interceptions, including a pick six, as the Tigers shutout Clermont Northeastern, 46-0.
Mekhi Lynn, Princeton, Jr, QB – Threw for 266 yards with three touchdown passes and ran for another. Scored the game-winning score with 0:12 second left to lift Princeton over Colerain, 41-37.
Mykell Martin, Newport, So, RB – Had 139 yards and two touchdowns on six carries (23.1/carry) in the Wildcats' 26-14 win at Bishop Brossart.
Austin Pohlman, Batesville, Sr, RB – Ran for 323 yards (15.4/carry) and six touchdowns as the Bulldogs took care of Rushville, 48-14.
Ty Stylski, Kings, Sr, RB – Amassed 318 (186 rush, 132 rec) of the teams 372 yards from scrimmage, with five receptions and four rushing touchdowns in the Knights' 34-13 victory at Middletown.
Carson Vanhoose, Clinton-Massie, Jr, RB/DB – Racked up 236 yards with four rushing touchdowns on 15 totes, returned a kickoff 85-yards for a score and had eight solo tackles as the Falcons lit up the scoreboard at Western Brown, 86-54.
*Nominate players weekly by emailing us at staff@tristatefootball.com by 9AM Sunday mornings.