Best Bets: Clash of the Titans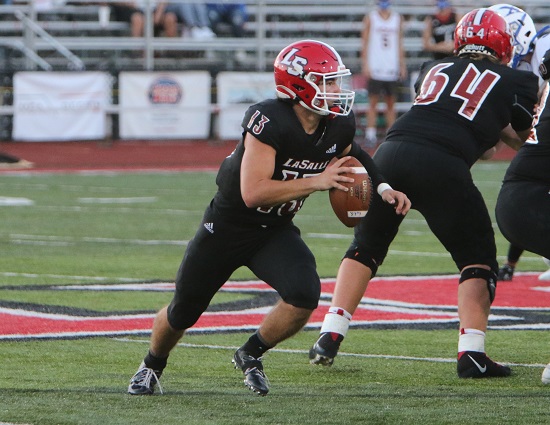 La Salle QB Zach Branam (photo by Dan Bieneke/TriStateFootball.com)
Although Mother Nature didn't cooperate last Friday, the games were played (mainly on
Saturday) and the stage is now set for the top teams in Cincinnati to make a state title run. The
postseason rolls into Week 2 in Indiana and Kentucky playoffs will begin in two weeks. We have
highly anticipated games from Division I all the way to Division IV. The slate of games this week
are the best we've had this season. Here are the showdowns to look forward to in another
playoff edition of the 5 Best Bets.
NO. 17 ANDERSON AT NO. 3 LA SALLE
Coming off their best win of the season, the Redskins are flying high and playing their best
football of the season. Going to a tough environment in Piqua and playing stellar defense for the
majority of the game speaks volumes to the improvement of this team. Quarterback Jackson
Kuhn put the team on his back, throwing 60 times and running 19 times. He accumulated 575
total yards and scored three times with no turnovers. The defense has been and will continue to
be the deciding factor on this team winning. In their two losses, Anderson allowed outputs of 70
and 48. In five of their seven wins, they allowed 20 or less. The Lancers looked like the team we
were expecting at the beginning of the season. They knocked off Stebbins 49-0 behind excellent
defense and their top players are playing big. Devante Smith (Alabama Commit) and Gi'Bran
Payne both found the end zone and contributed heavily to the shutout. Senior Quarterback Zach
Branam was deadly through the air and on the ground, which is crucial moving forward in the
playoffs because that is when the Lancers are at their best. For Anderson to have any chance in
this game, they have to stop a running game that averages 197 yards per game. The
combination of Branam and Payne can and will wear teams out. Anderson has to force La Salle
to become a passing team. Also, turnovers will absolutely derail any hopes of the Redskins
trying to pull the upset. This will be an uphill climb for Anderson, as La Salle is now getting
healthy and clicking at the right time.
NO. 11 KINGS AT NO. 4 WINTON WOODS
Here is an ECC matchup we didn't get during the regular season, but have it now with the
stakes at an all-time high. The Knights were questioned due to their favorable schedule, but any
doubts of them being able to compete with the big boys was put to rest after a 17-0 win against
Turpin. Ty Skylski and the offense have gotten the shine and rightfully so, but the excellent play
of their defense has this team clicking. They have allowed 10 or fewer points in three of their
last four games and have only given up seven points total in two postseason games. The
Warriors keep on keeping on as the number one seed in Division II, Region 8. They run the ball
effectively, averaging 211 yards per game, and have experience at the quarterback position with
MiChale Wingfield. He has accounted for 16 touchdowns and only two turnovers. The defense
continues to stifle everyone in their path, allowing 14 points or less in seven of their eight
games. This team is as balanced as they come and can beat you in a variety of different ways.
Overall, Kings is an excellent football team, but they have not yet faced a team as good as Winton Woods. The athletes the Warriors throw out will shock the Knights. Expect this game to
be close through about two and a half quarters, with Winton Woods pulling away late.
ALTER AT NO. 15 BADIN
Another conference showdown, this time with a rematch of the Week 2 defensive battle that
Badin won 14-12. Since then, neither team has lost, setting up for another epic showdown.
Alter lost their first two games, but are now playing excellent defense and much better on
offense. Linebacker C.J. Hicks (Ohio State Commit) has become one of the best players in the
entire state and is the engine that makes this team go. After only scoring 12 against Badin in the
first matchup, they are averaging 41 points per game over their last six matchups. For Badin,
they come in undefeated, playing extremely well on both sides of the ball. They allow only seven
points per game, not allowing any team to score more than 14. Offensively they are the only
team to average more than 120 passing and rushing yards per game. Although this game will
be won in the trenches, as these teams are one and two in the conference in rushing. Alter
averages 323 yards per game on the ground, 158 yards more than Badin. This game should
mirror the game we saw earlier in the season: excellent defense, points coming at a premium,
and a turnover or special teams play that could ultimately be the deciding factor. Don't be
surprised if this one turns out to be the best game of the weekend.
NO. 16 ROSS AT BELLBROOK
The Rams continue to run into unfamiliar territory, making it to the fourth round, for the first time
in program history. They dominated New Richmond last week, rushing for 383 yards and
averaging 10 yards per carry. Braydan Fraasman led the way with 109 yards and three scores.
The offense has always been there for Ross, but in the past three games the defense has
stepped up in a big way, being the catalyst to the team's success. After allowing 29 points per
game over their first five contests, that number has dropped to 15 over the last three games. If
they want this magical season to continue, the defense must continue to shine. They face their
toughest test of the season, a Bellbrook team that is undefeated and has outscored opponents
344-63 this season. For the Rams to have any chance at this game, they need to dominate the
time of possession and wear this excellent Bellbrook team out. Defensively, Ross needs to
make big plays and come up with key turnovers. The Golden Eagles are big favorites here and
rightfully so; it will take a flawless game for the Rams to continue their season.
NO. 6 COVINGTON CATHOLIC VS SIMON KENTON
The Colonels continue to dominate everyone in their path, as they have now won 21 games in a
row, and have outscored opponents 214-38. After a promising 2-0 start, the wheels have fallen
off for Simon Kenton, as they have lost four of their last five contests. Defensively, they allowed
outputs of 14 and 6 in weeks one and two. Since, they have surrendered games of 47, 32, 28,
34, and 42. Those numbers will continue to elevate this week, as Caleb Jacob and the CovCath
offense is firing on all cylinders. The Colonels handle business here, with a big game against
Lexington Catholic looming next week.
GAME OF THE WEEK
Make sure to check out the COMPLETE PREVIEW for this week's featured Blitz 5 Game of the
Week – No. 2 St. Xavier at No. 1 Lakota West.
+++
*All rankings above are the team's current rank inside the Blitz 5 Top 25.
Here are some other games for ranked teams this week:
No. 9 East Central at Mooresville
No. 13 Moeller at Highlands
No. 14 Hamilton at Withrow
Valley View at No. 21 Wyoming
Versailles at No. 22 Roger Bacon
Waverly at No. 23 Clinton-Massie
No. 24 Lawrenceburg at Scottsburg