Fairmont pulls upset for first playoff win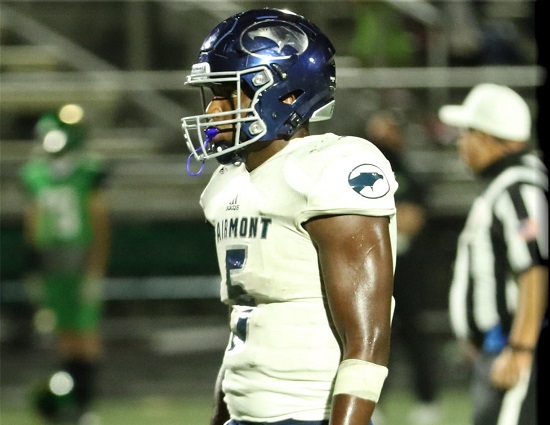 Fairmont RB Tank Gant (photo courtesy of ScoutingOhio.com)
PERRYSBURG, Ohio – A long road trip north wasn't about to deter Fairmont as they went into Perrysburg and punished the previously unbeaten Yellow Jackets, 41-14. It was the first postseason victory in the history of the Firebirds program.
Fairmont built a 28-7 lead at intermission behind the legs and arm of running back Keon Wright. The junior threw a 67-yard touchdown pass to Anas Musiami and had 43-yard scoring scamper during a string of 21 unanswered points to close out the first half. The visitors had taken control of the contest and that never wavered after intermission.
The Firebirds finished night with 367 yards of total offense (226 rush, 141 pass). Wright and Drew Baker each ran for more than 100 yards. Baker put the final nails in the coffin with two fourth quarter touchdown runs.
Perrysburg was without starting quarterback Christian Gulgin who was in Covid quarantine. Sophomore Thomas Takats filled in admirably throwing for 195 yards and a touchdown. Yellow Jackets running back Connor Walendzak had both of the teams scores, one on a run and another on a 23-yard reception.
SCORING BY QUARTERS
Fairmont 14-14-0-13-41
Perrysburg 7-0-7-0-14
SCORING PLAYS
F – Dustin Gustwiller 12 fumble return (Will Holt kick)
P – Connor Walendzak 10 run (Jason Hudson kick)
F – Anas Musaimi 67 pass from Keon Wright (Holt kick)
F – Tank Gant 1 run (Holt kick)
F – Wright 43 run (Holt kick)
P – Walendzak 23 pass from Thomas Takats (Hudson kick)
F – Drew Baker 30 run (kick failed)
F – Baker 2 run (Holt kick)
RECORDS: Perrysburg (6-1); Fairmont (3-4)
UP NEXT: Perrysburg at Avon (6-1), regular season game; Fairmont is Olentangy Liberty (6-1), Division I, Region 2 playoffs