Northmont wins again in last minute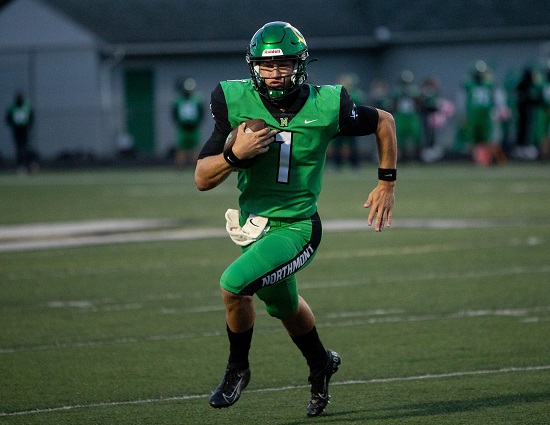 Northmont QB Cade Rice (photo by Shelby Frieszell/TriStateFootball.com)
CLAYTON, Ohio – It was another thrilling late game victory for Normont as they came from behind to beat Wayne and finish the regular season unbeaten. For the second time this year, Thunderbolts quarterback senior Cade Rice connected with classmate Markus Allen on a fourth down, for a touchdown, in a game's final minute to give Northmont a win. This triumph gave the Thunderbolts the GWOC championship.
Four of Northmont's six wins have been by one, three, four and six points. The GWOC schools have faced off in 23 contests this season. 11 of them have been decided by seven points or less. Take out Beavercreek's six losses by an average of 58.5 points per game and that number goes to 11 of 17 affairs being decided by seven points or fewer. Four of the other six games were decided by 14, 14, 13 and 11 points.
For the third straight week the Thunderbolts erased a double-digit deficit. Rice was the catalyst in all of them. The senior lit the Warriors up for 292 yards and three touchdown passes, all to Allen in the games final 18 minutes. Allen finished the night with career highs of 13 receptions and 219 yards receiving. It was the third time that he has had three touchdown receptions in his last eight starts.
Wayne running back Jordan Ward had a game high 144 yards rushing. The Warriors are 3-2 in tilts decided by seven points or less.
SCORING BY QUARTERS
Wayne 7-10-7-3-27
Northmont 0-7-7-14-28
SCORING PLAYS
W: Cam Fancher 4 run (Justin Doan kick)
W: Antonio O'Berry 54 punt return (Doan kick)
N: Rod Moore 10 run (Xavier Vuong kick)
W: Doan 32 FG
W: Jordan Ward 2 run (Doan kick)
N: Markus Allen 37 pass from Cade Rice (Vuong kick)
W: Doan 30 FG
N: Allen 26 pass from Rice (Vuong kick)
N: Allen 7 pass from Rice (Vuong kick)
RECORDS: Wayne (4-2, 4-2); Northmont (6-0, 6-0)
UP NEXT: Wayne hosts Centerville (3-3); Northmont hosts Middletown (1-4)