Lakota West claims GMC crown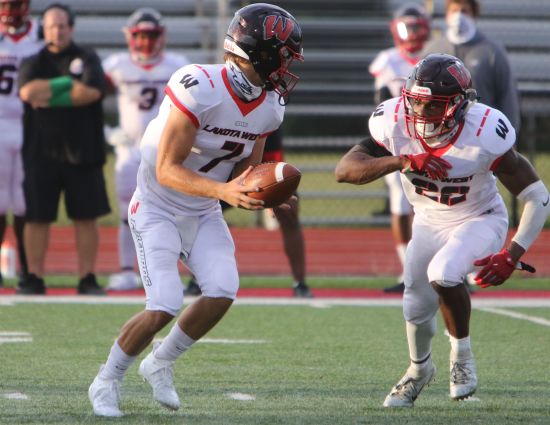 WEST CHESTER, Ohio – For the first time in the school's history, the Lakota West Firebirds are outright GMC champs. Lakota West capped off a perfect regular season with a 21-0 shutout over visiting Mason on Friday night.
Shutdown defense was once again the winning recipe for the Firebirds as they pitched their third shutout in five games and the unit has ceded just 20 points all season.
The Comets' defense has been pretty impressive this season too and for the game's first 18 minutes neither side budged.
After Mason kicker Michael Tymitz missed a 43-yard field goal, Lakota West finally dented the scoreboard when sophomore quarterback Mitch Bolden plunged into the end zone from two yards out with just under six minutes to play in the first half.
Both teams shot themselves in the foot at times with costly penalties and turnovers, but part of that was the result of stellar defensive play.
The Firebirds eventually would put the game away in the fourth quarter. Cameron Good's two-yard touchdown with 8:44 to go started the scoring and a second TD run from Bolden, this time from 10 yards out, proved to be the knockout punch.
Bolden finished with 81 yards and two touchdowns on 16 carries. He was just 3-of-10 passing through for 20 yards and was picked off once. Good paced the offense as he carried the ball 15 times for 137 yards and a score.
SCORING BY QUARTERS
Mason 0-0-0-0-0
Lakota West 0-7-0-14-21
SCORING PLAYS
W: Mitch Bolden 2-yard run (Howard kick)
W: Cameron Good 2-yard run (Howard kick)
W: Mitch Bolden 10-yard run (Howard kick)
RECORDS: Mason (4-2, 4-2 GMC); Lakota West (5-0, 5-0)
UP NEXT: PLAYOFFS – Mason vs. Lebanon; Lakota West vs. West Clermont.
*Stay updated on high school football updates by following @TSFootball on Twitter.