Springfield wins Region 2 again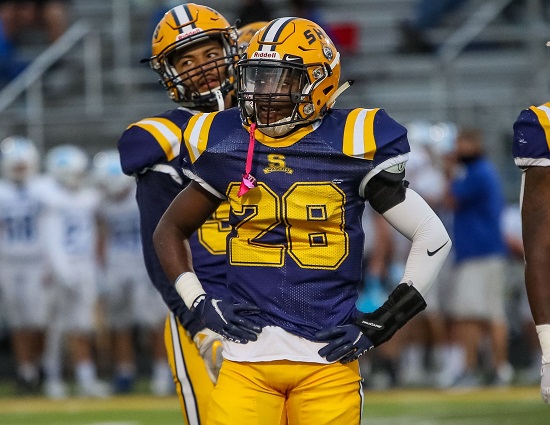 Springfield LB Jaivian Norman (photo by Shelby Frieszell/TriStateFootball.com)
SPRINGFIELD, Ohio – For the second straight year Springfield is regional champions. Wildcats defense registered its third shutout in the last five games as they stymied Olentangy Liberty. The victory gave the program its second straight Division I, Region 2 title, the only two crowns in school history.
The defensive performance came about despite three turnovers by the offense and 13 penalties for 136 yards by the team. The Wildcats held Liberty to 2-13 on third down conversions, while yielding just 169 total yards. Springfield is allowing just 7.2 points per game during their current five-game winning streak.
Springfield exploited the Patriots through the air. Quarterback Te'Sean Smoot ran for a first quarter score and threw for two touchdowns in the second stanza. That was the extent of scoring in the contest.
Smoot finished the game with 339 yards passing with two scoring tosses, upping his season total to 23. Senior Ben Van Noord had season highs of seven receptions for 135 yards and his sixth touchdown catch of the year. Sophomore Anthony Brown had six receptions for 94 yards and a touchdown.
Springfield moves on to face Region 4 winner St. Xavier in a state semi-final matchup. That game will be played next Friday night at a neutral location.
SCORING BY QUARTERS
Olentangy Liberty 0-0-0-0-0
Springfield 7-12-0-0-19
SCORING PLAYS
SF: Te'Sean Smoot 2 run (Cole Yost kick)
SF: Ben Van Noord 32 pass from Smoot (kick failed)
SF: Anthony Brown 15 pass from Smoot (kick failed)
RECORDS: Olentangy Liberty 8-2); Springfield (8-1)
UP NEXT: Springfield vs. St. Xavier – OHSAA Division II State-Semifinal